IDEX Online Research: March U.S. Jewelry Sales Show Moderate Gains
May 19, 08
The U.S. Department of Commerce says specialty jewelers' sales rose by 4.0 percent in March. Other than a few high-end jewelers, we are hard pressed to find a merchant who posted sales that strong. Like February's numbers, it is likely that March's strong gain will be revised downward, though probably by no more than 50 basis points, at most.
While we are not trying to discredit the government numbers for jewelry sales, it does seem that they are more robust than reality would indicate. Here are the key retail figures for the month of March 2008 versus March 2007:
+1.0 percent - Total U.S. Jewelry Sales

+4.0 percent - Total U.S. Specialty Jewelers' Sales

+0.3 percent - Total U.S. Retail Sales (All Categories)

+2.7 percent - Total U.S. Retail Sales (Ex-Auto & Food)
The only good news to come out of these numbers is this: specialty jeweler's sales are much stronger than jewelry sales at non-specialty, multi-line merchants. In other words, when consumers think of jewelry, they think of their friendly family (or chain) jeweler, rather than someone like Kohl's, Sears or Wal-Mart. While the Department of Commerce does not provide a detailed breakdown of jewelry sales by multi-line merchants, we estimate that this group of merchants saw their jewelry sales tumble by about 3 percent in March.
Jewelry merchants tell us it is "tough going" in the U.S. market. Among mass market jewelers, sales are being driven by heavy discounting. The best example of the impact of discounting is Zale, which posted a 6 percent sales gain (both total and same-store sales) in the three-month period ended April 2008; the gain was fueled by clearance sales. Among specialty jewelers who were not in a clearance mode, Sterling's total sales were about flat (same-store sales down about 4 percent) and Finlay's same-store sales were down just over 4 percent. Even Blue Nile, which had been posting phenomenal sales gains in prior quarters, reported that its U.S. sales were down 1 percent in the quarter ended March. In short, consumers will come out of hibernation, but only if the deal is extremely compelling.
Further, consumers aren't in the mode to buy big ticket durables. Automobile sales have tumbled, indicating that consumers are unwilling to take on new debt; further, banks aren't in a lending mode. Because roughly half of all jewelry sold in the U.S. is purchased by consumers on the monthly payment plan, the lack of credit availability and consumers' reticence to take on new monthly payments has had a detrimental impact on demand.
The table below summarizes retail sales trends for the past three months in the U.S. market.



Source: Various
Jewelers' Success Stories
There are ample marketing experts working with jewelers; these experts have a variety of programs, some of which are more successful than others. Certainly, well-targeted marketing tactics help get jewelers' message to consumers. From a product viewpoint, there are five categories which seem to be working best:
Bread-and-butter commodity jewelry remains weak. The only category that continues to show consistently solid demand is bridal. However, we are seeing a trend toward smaller solitaire rings as well as wedding bands with diamonds in lieu of the traditional engagement solitaire.

Outlook Cautious, But We Have Raised Our Forecast

Our outlook for U.S. jewelry sales remains cautious for the first half of the year. Whether or not we are in a "technical recession" – defined as two consecutive quarters of a decline in Gross Domestic Product – or just in a "mental recession" with consumers tightening their purse strings, the fact is this: retail spending has slowed notably.

We have raised our full year jewelry sales forecast to +3 percent from our prior forecast of +1-2 percent (point estimate was about +1.4 percent). Why? It really has less to do with fundamental demand, and much more to do with inflation trends. Jewelry price inflation at retail has suddenly jumped to high single digit levels, primarily in response to producer price inflation in the low double-digit range for the past couple of months.

Jewelry is often cited as a category which softens first in a recession and recovers last. In the current environment, jewelry sales have remained stronger than expected. We can only hope for a solid recovery by the all-important 2008 holiday selling season.

March Jewelry Sales Show Modest Gain

During the month of March 2008, specialty jewelers in the U.S. market posted a surprisingly strong sales gain of 4.0 percent over the same month a year ago. The total market for jewelry grew by a very modest 1.0 percent during March. Thus, specialty jewelers gained market share versus their competition from non-traditional sources of jewelry such as discounters, mass marketers, and others.

Further, the jewelry industry gained market share when compared to other retail categories. Total retail sales (all goods, including food and automobiles), were barely up – +0.3 percent – in March. Specialty jewelers, which as a group generated a +4.0 percent sales gain, posted stronger sales gains than other specialty merchants, whose sales were up by only 2.7 percent. Specialty merchants include all retailers except automobile and food retailers. Frankly, it is a surprise – though a pleasant surprise – that jewelry sales were so robust in March. There is no calendar sales event (such as Valentine's) which drives demand in March. Some would argue that when the going gets tough, the tough go shopping for feel-good products like jewelry. We think that argument is tenuous, at best.




The graph below compares specialty jewelers' sales trends (red line) to total jewelry sales trends (blue line) in the U.S. market. As the graph clearly illustrates, jewelry sales at specialty jewelers have been on a roller coaster ride for the past few months, with a sharp slide in September, a spike in October, another slide in November and December, followed by a modest recovery in January, a dip in February, and another recovery in March. However, since the beginning of the year, specialty jewelers have taken market share from multi-line merchants who sell jewelry.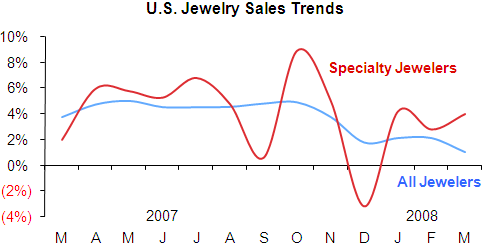 Source: U.S. Department of Commerce
The next graph summarizes sales trends for all retail goods (green line) excluding food and automobiles versus specialty jewelers' sales (red line). When food and auto sales are excluded, the remaining retail categories posted a sales gain of 2.7 percent in March. When food and auto sales are included, retail sales were up only 0.3 percent for the month, as previously indicated.




Why do we eliminate "automobile" sales? Over the long term, auto demand trends are an important indicator of consumer vitality; however, on a month-to-month basis, auto demand is dependent on manufacturers' incentives such as zero percent financing, cash-back offers and other deals. Food sales are far less cyclical and can mask changes in consumer demand; thus, we eliminate them, too.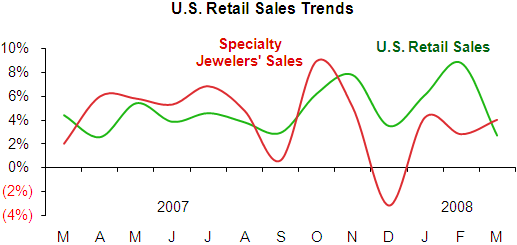 Source: U.S. Department of Commerce


Consumer Spending Perked Up Modestly in March

Driven by price inflation of core commodities such as gasoline and food, consumer expenditures rose by 5.1 percent during March 2008. While this was modestly below the average for the past several months, it represented a slight increase from February. Spending on services remains more-or-less on track, with little monthly deviation. However, overall consumer expenditure growth has slowed for the past two months (black line on graph below).




The graph below summarizes trends in American's total spending (black line), retail sales of all goods (blue line) and expenditures on jewelry (red line). It is clear that dismal automobile sales in the U.S. market are having a dramatic negative impact on total retail sales (blue line). Automobile sales in 2007 were just over 20 percent of total retail sales; thus, it is clear why they have such an impact on total retail sales trends. And, it should be obvious why we typically eliminate them, when we analyze U.S. retail sales. Automobile sales are driven largely by the "deal-of-the-day," as we noted above.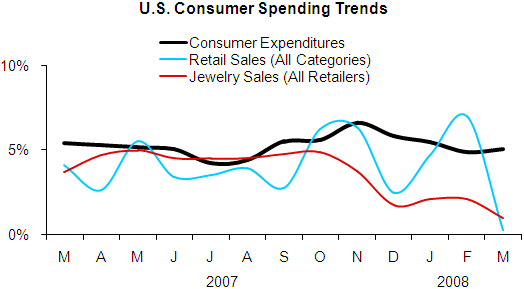 Source: U.S. Department of Commerce


Outlook: We've Raised Our 2008 Forecast

When the economy slows, jewelry demand is elusive. When the economy grows, jewelry demand soars. That's the simple formula for forecasting jewelry sales. Thus, logic would suggest that jewelry sales would decline modestly in 2008.

While the economy is not technically in a recession – first quarter economic growth was anemic, but still slightly positive – consumers are in a mental recession. As a result, jewelry demand is soft.

But there is something else going on that we haven't seen in more than a decade: rampant inflation in the jewelry industry. Precious metals prices have risen steeply and those higher costs are finally finding their way though to retail prices. During March and April, retail jewelry prices in the U.S. market were up in the high single digit range.

As a result of inflationary pressures, we have revised our jewelry sales forecast for the U.S. to +3 percent for 2008 from our previous 1.5-2.0 percent. It is likely that specialty jewelers will report sales in excess of this gain, while multi-line retailers who sell jewelry will likely experience smaller gains. There is one important note: all jewelers are expected to sell fewer pieces of jewelry (if inflation remains in the 8-9 percent range, it means that unit sales of jewelry will be down 5 percent or so); further, we are assuming that the average ticket doesn't move much.




Finally, we are expecting customer traffic to be down modestly, but the conversion rate should rise. Why will the conversion rate rise? If jewelry sales people do their job, fewer browsers will walk away without buying anything.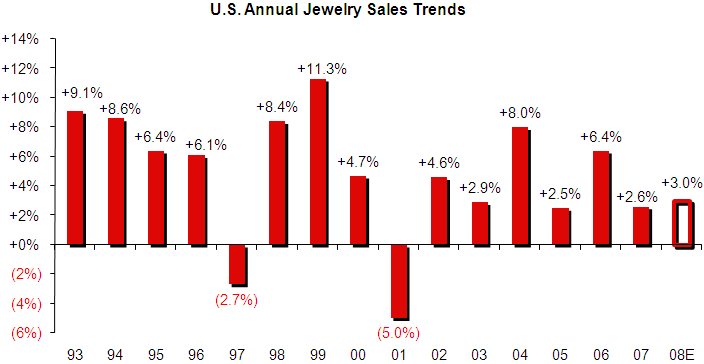 Source: U.S. Department of Commerce & IDEX Online Research