Blue Gray 35.56 ct Diamond Sells for $24.26 Million
December 11, 08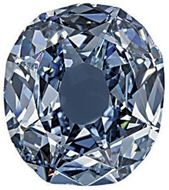 The Wittelsbach Diamond
broke previous auction record
Photo: Christie's
Christie's Wednesday jewelry auction fetched $27.22 million, most of it paid for the Wittelsbach Diamond. The $24.26 million Graff Diamonds paid for it represents a world record price for any diamond or jewel sold at auction, according to Christie's.
The diamond is a cushion-shaped deep grayish blue VS2 diamond dating to the 17th Century. It was part of the dowry of Infanta Margarita Teresa, the daughter of King Philip IV of Spain and wife of Leopold I of Austria, who later became the Holy Roman Emperor.
Of the 207 lots offered at the auction, 55 percent were sold, fetching 89 percent of the estimated value.