Rio Tinto Posts $56 Million Loss from Diamonds in H1
August 20, 09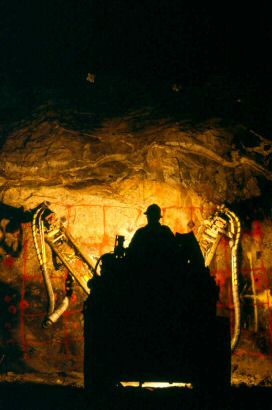 Underground work at Rio Tinto's Diavik
diamond mine
Rio Tinto's gross revenues from diamonds dropped 67.8 percent in the first six months of 2009, to just $184 million, the company reported Thursday. The company reported a $56 million loss from its diamond operations, compared with earnings of $108 million in the same period of 2008.
The multi-commodity miner pinned the loss mainly on lower prices for rough diamonds, a result of the global slowdown.
Diamond production in the six month period declined 14 percent to 6.79 million carats, compared to 7.85 million carats produced in the first half of 2008. Total 2008 production stood at 20.82 million carats.
With both prices and sales volumes declining, the rough diamonds market has been typified by the lowering of inventory levels in the diamond pipeline, resulting from reduced global liquidity.
In response, Rio Tinto placed the Argyle processing facilities on a maintenance shutdown from March to May 2009 with processing recommencing in June. At Diavik, the first of two six week shutdowns started on July 14 and diamond production ceased temporarily with the mine placed on a care and maintenance schedule.
Rio Tinto's diamond interests include full ownership of Argyle, a 60 percent stake in Diavik and a 77.8 percent holding in Murowa.
For the entire group, Rio Tinto posted net earnings of $2.5 billion, 65 percent below first half 2008.