IDEX Online Rough Diamond Market Report: Hot, then Cooler Demand
November 12, 09
The Diamond Trading Company (DTC) raised prices last week and premiums rose with them. However, after the Sight ended, premiums declined by several percentage points and the rush after the goods eased. Following are some of the price changes and premiums paid in the second-hand market.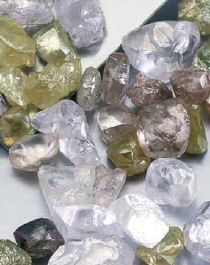 Rio Tinto reports expected shortage
and cuts client list, large miners
raise prices, premiums hot but
cool down
Last month
we said
that demand for rough is expected to slow down, especially for smaller goods. We were wrong. Rough diamond trade in
Antwerp
was a hot and active one last week. According to one insider, demand for 'Indian goods' was "enormous." Goods changed hands quickly and prices rose in the process - like the 2008 crisis never slapped the industry on its face.

Traders confirm that even with the higher prices, premiums included, manufacturers still have enough room for a good margin, backed by steady polished diamond sales.

The surprising news of the week was Rio Tinto Diamonds' decision to cut its client list short. It is still not known who will lose their "Select Diamantaire" status, however an Israeli company and three Antwerp based traders are apparently off the list.
The changes will be swiping as Rio Tinto is also considering "alternative" distribution methods, understood to be a code name for tenders. The market is not fond of tenders, the general consensus is that they push up prices. A couple of Sightholders told IDEX Online that BHP Billiton's tenders led the price crash in October of last year.
Rio Tinto and BHP Billiton also raised prices last week. Rio Tinto raised them on average by 4-5 percent, BHP Billiton by 3-4 percent. Alrosa is still expensive.
A note on financing: There are mixed reports about bank financing. After a wide round of discussions with traders and bankers, it is clear that banks are extending credit to large Sightholders but not to smaller traders, even if they are in good standing and demonstrate solid business activity and practices. These discussions lead to a speculation that the banks hope the credit will trickle down via the larger companies. If that is the case, banks clearly don't understand the goods-for-cash model that rules rough diamond trading.
As IDEX Online reported last month, the DTC's Sight 9 ITO (Intention To Offer – the planned allocation for the Sight) stood at about $300 million. Sightholders applied for many extras, some three to five times the ITO, or about $1-$1.5 billion. Not only that no one intends to buy all these goods - after all, where would all the financing come from – but the DTC itself had no intention to supply these goods either. The DTC turned down most of the requests saying it does not have the goods.
With practically no Ex-Plan (extra allocation), the Sight is estimated at a little over $300 million.
The DTC caught Sightholders by surprise with the price hike. According to spokeswoman Louise Prior, "In line with our dynamic pricing policy (which is informed by multiple data sources), we can confirm that there have been some minor price adjustments this Sight, both up and down."
In the cheaper goods, that meant a 4-7 percent price hike. We are looking at the cheaper goods because that is where a lot of the trading activity is taking place.
Following are average price changes on DTC boxes and some of the premiums paid for them during the week of the Sight. Note that these premiums fell back a little this past week.
The Fine 4 grainer boxes went up by about 4.5 percent with 5 percent added on top of the smaller goods boxes and 10 percent on the larger goods.



Crystals

boxes went up on average 5 percent.

Commercial boxes were hiked by 5 percent, buyers paid another 8-9 percent premium for the 2.5-4 carat goods, +13 percent for the 4-14.8 carat goods.



Commercial low up by 8 percent on average. The price of one of the boxes, the 2/3 black Makeables 4-8 grainer, rose by 10 percent and the market was willing to pay an extra 20 percent.



Spotted Sawables 2.5-4 carat, which suffered from softer demand compared to the previous Sight, increased in price by almost 4 percent and still commanded a 10 percent premium.



Collection were up by a modest 2 percent, really a correction, with a small 5 percent premium confirming that the list price is "right."



List price of the Sawables Small, up to 3 grainers, rose on average by about 4 percent, achieving premiums of about 3-8 percent. One box, the Mixed Sawables, rose by more than 10 percent, premiums were reported at below 8 percent.



Brown Sawables, +2 percent, reported premiums of more than 10 percent on some of the boxes. For instance sellers of the Light Brown Sawables 4-8 grainers were able to achieve a 12 percent premium.



Chips 4-8 grainer, +5.5 percent. There are conflicting reports on demand for these goods. According to one report demand was high and buyers paid at least 10 percent above the list price. Other reports say demand was low.



Color Fine up by 3.5 percent on average, premiums added another 9 percent to the price.



Makeables 2.5-4 carat, +8 percent price rise. The price of the Makeables Selected 5-14.8 carat box increased by 3 percent and was sold for an additional 8-9 percent premium.



Small Makeables, +3 percent, wide range of reports on premiums, from hardly any to 12 percent.



Cleavage Low, price up about 8 percent.



Preparers, average increase of 3 percent, high 15-17 percent premiums.



Lower Color Spotted, average increase of 6 percent.



Rejections Cleavage, +3.5 percent.
Most traders said they did not see price decreases, but there were some reports of a decrease in cubes 4-8 grainer, Makeables 4-8 grainer and certain sawable boxes. These decreases were in the lower single digit region, less than 2 percent.
Demand for DTC boxes after Sight 9
| | | |
| --- | --- | --- |
| Article | Demand | Remarks on Demand |
| Fine 2.5-4 ct & Fine 5-14.8 ct | Demand is medium on 2.5-4 and medium for 5-14.8 | Lower demand for 2.5-4ct |
| Crystals 2.5-4 ct & Crystals 5-14.8 ct | Very strong demand for 2.5-4 and medium demand for 5-14.8 | Same demand compared to previous Sight |
| Commercial 2.5-4 ct & Commercial 5-14.8 ct | Very strong demand for 2.5-4ct. Medium demand for 5-14.8ct | Same demand compared to previous Sight |
| Spotted Sawables 4-8 gr | Medium demand | Lower demand compared to last Sight |
| Chips 4-8 gr | Low demand. | Same demand compared to previous Sight |
| Colored Sawables 4-8 gr & Colored 2.5-14.8 ct | Medium demand for 4-8gr and strong demand for 2.5-14.8 | Demand only from specialists. Stronger demand for +2ct. Stronger demand from last sight. |
| Makeables High 3grs +7 | Medium demand. | Same demand compared to last Sight |
| Preparers Low 3-6 gr | Strong demand. | Strong demand compared to last Sight |
| 1st Color Rejections (H-L) | Very strong demand. | Strong demand compared to previous Sight |