Rio Tinto Decreases 2009 Diamond Production by a Third
January 14, 10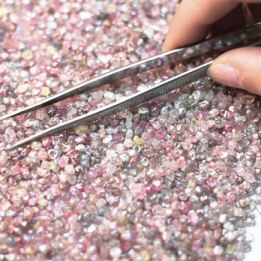 Rio Tinto's Argyle production was reduced
to 10.6 million carats in 2009
Fearing inventory stockpiling, Rio Tinto increased diamond production in the fourth quarter, but refrained from restoring production levels to pre-crises levels. Production at Argyle was 33 percent lower than the same quarter of 2008. At Diavik, fourth quarter production was 41 percent lower year-over-year.
Rio Tinto's total fourth quarter share of diamond production stood at 4.451 million carats, a 60 percent increase compared to the third quarter of 2009, but a 35 percent decrease compared to the fourth quarter of 2008.
Total 2009 share of production fell 33 percent to 14.026 million carats.
"Markets recovered during the fourth quarter but remained below prior year levels," the miner said in its quarterly operations review.
"Argyle continued to ramp up production in the fourth quarter following the decision to shut operations in the second quarter to balance production with market demand," the company said. Argyle produced 3.504 million carats in the quarter and 10.591 million carats in 2009.
Rio Tinto's 60 percent share of the Diavik production was 918,000 carats in the quarter and 3.339 million carats for the year. This translates into a total production of 15.3 million carats in the fourth quarter and 5.565 million carats in 2009 at Diavik.
Production at Diavik was reduced in response to weaker market conditions.
The diamond miner's 78 percent share of Murowa yielded 29,000 carats in the fourth quarter and 97,000 carats in 2009.
"Production at all Rio Tinto Diamonds operations was closely monitored throughout the year to limit inventory build up," the company announced, adding a cautionary note about the new year. "We are seeing recovery across most of our key commodities, although we continue to be cautious on the state of the global economy going into 2010 as stimulus packages start to wind down," said Chief executive Tom Albanese.
The company continued its diamond exploration efforts in India, Canada and the Democratic Republic of Congo (DRC).