IDEX Online Research: Jewelers Post Surprisingly Strong Holiday Sales & Profits
January 14, 10
Most U.S. jewelers posted better-than-expected sales for the 2009 November-December holiday selling period. Despite dim prospects early in the season, consumers flocked to the malls in the final two weeks prior to Christmas, as well as the week after Christmas, and went on a spending spree with the zest and energy reminiscent of some of the pre-recession periods of 2006 and 2007.
Not only were jewelry sales up, but some jewelers have said that their profits will be notably higher than they had expected for the two-month holiday period.
Here's the best news: jewelry took market share from other retail categories. Preliminary sales results show that sales gains for jewelry were greater than the sales gains for most other retail categories, including consumer electronics.
The holiday selling season of November and December is the most important period in a jeweler's year: most U.S. jewelers generate up to one-third of their annual sales in the November-December period. And, more importantly, they generate as much as 100 percent of their annual profits in the two-month year-end period.
Holiday Jewelry Sales Up in Mid-Single Digit Range
We won't know the official results for another month, but all signs point to an overall sales gain for jewelry at all merchants – specialty jewelers, multi-line merchants, discounters, online, etc. – in the mid-single digit range in the 2009 holiday selling season. Based on these preliminary results, it appears that the IDEX Online Research jewelry sales forecast of +2.8 percent for the U.S. will be low. Interestingly, IDEX Online's sales forecast was the highest on the street; most other forecasters predicted flat-to-down jewelry sales for the 2009 holiday period.
Specialty jewelers' sales increases are likely to be in the low-to-mid single digit range. Unfortunately, it appears that specialty jewelers lost market share during the 2009 holiday selling season.
Here's a tally of jewelers' holiday sales reports so far: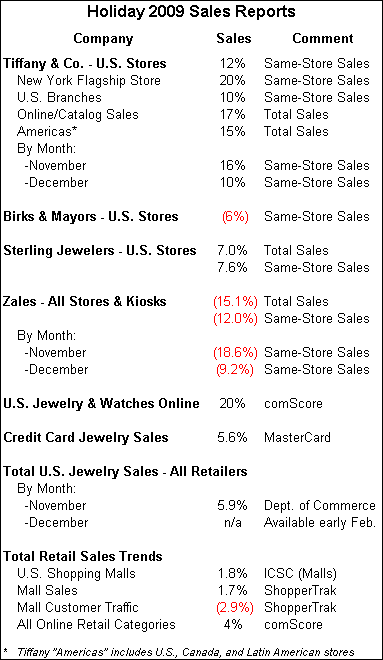 Source: Company Reports
Key jewelry sales trends from the 2009 holiday selling season include the following:
· Total U.S. jewelry sales were up in the mid-single digit range. However, individual jeweler's sales trends spanned a wide range between "awful" and "great"; these large swings are unusual.
· The average ticket for a piece of jewelry was down by 8-10 percent. Merchandise offered at lower price points sold best.
· There were plenty of consumers who wanted to buy jewelry, based on store traffic counts.
· Jewelry sales improved as the season progressed.
· Specialty jewelers lost market share to discounters and other merchants who made a strong "value" statement.
Here's an early roundup of unofficial holiday selling season results for the American jewelry industry.
· Holiday Jewelry Sales Made on Charge Card Up 5.6 percent – Credit card company MasterCard reported that jewelry sales in the U.S. market were up 5.6 percent between November 1 and December 24. Momentum built throughout the season; MasterCard said jewelry sales were up 4.6 percent in November. In December, MasterCard reported that jewelry sales rose by 6.9 percent. Further, MasterCard reports that jewelry sales were up for the four consecutive months ended December 2009.

MasterCard also noted that mid-tier jewelry merchants generated smaller sales gains than either higher-end jewelers or low-end jewelry merchants.

In contrast to strong jewelry sales, MasterCard said sales of other luxury goods lagged behind jewelry somewhat in the holiday selling season, posting a gain of 5.5 percent. MasterCard says total retail sales (all categories of consumables) were up by 3.6 percent in the holiday selling period; thus, jewelry – with a gain of 5.6 percent – outperformed most other retail categories.
· Online Jewelry & Watch Sales Rise by 20 percent – comScore reported that jewelry and watch sales were the strongest online merchandise category during the 2009 holiday selling season, with a sales gain of 20 percent. This was a dramatic turn-around from the prior year, with online sales of jewelry and watches plummeted by 29 percent. comStore reported that total online retail sales increased by 4 percent in the 2009 November-December period; thus, jewelry took market share from other online retail categories.
· Tiffany U.S. Same-Store Sales Up A Very Strong 12 percent – World-renowned jeweler Tiffany & Co. reported that its U.S. same store sales rose 12 percent in the holiday period. Same-store sales were up 16 percent in November, and rose by 10 percent in December. Holiday sales results included a 20 percent sales gain in the New York flagship store and a 10 percent gain in same-store sales among its U.S. branches. Management said that its sales gains were due to an increased number of transactions from both local customers and overseas visitors. Tiffany's online and catalog sales rose by a very strong 17 percent.

Worldwide, Tiffany's net sales (constant currency) were up 13 percent, and same-store sales rose by 8 percent. Total sales in the Asia-Pacific region rose by 4 percent (constant currency). Same-store sales rose by 1 percent due to a 26 percent increase across most of the Asia-Pacific region offset by a 12 percent decline in Japan. Sales in Europe rose by 19 percent, with a 16 percent increase in same-store sales.

Management noted that profits for the all-important fourth quarter (ending January 31, 2010) and full fiscal year would be above prior expectations. For the fourth quarter, this year's profits are expected to be about 30 percent higher than the prior year's profits before one-time charges. For the full year, profits will be better than originally expected, but still about 10 percent below last year's profits prior to unusual charges.
· Birks & Mayors' U.S. Same-Store Sales Down 6 percent - Birks & Mayors reported that its U.S. same-store sales were down 6 percent in the 2009 holiday selling season. This was offset by a 6 percent same-store sales gain in its Canadian division; corporate same-store sales were flat. On a constant currency basis, total sales were down about 3 percent. Two factors had a negative impact on sales: 1) lower levels of store traffic; and 2) competition against several jewelers who ran "Going Out of Business" sales during the holiday selling season.
· Sterling Jewelers Posts Strong 7.6 percent Same-Store Sales Gain – Signet's U.S. jewelry division, Sterling Jewelers, generated a total sales gain in the holiday selling season of 7.0 percent, and a same-store sales gain of 7.6 percent. Management said sales benefited from growth of exclusive brands and differentiated goods coupled with a strong value proposition that was communicated to customers over national television.

Sterling's average selling price fell by about 9 percent in its mall brand stores. In Jared, the average selling price fell by about 4 percent, excluding the impact of Pandora, a low-ticket category that was just introduced this year. Management said that differentiated merchandise such as Open Hearts by Jane Seymour, Love's Embrace, the Leo Diamond, and LeVian were very successful. Its merchandise gross margin fell by 40 basis points, as planned.
· Zale's Sales Lag: Same-Store Sales Drop by 12 percent - Zale Corporation reported notably weak holiday sales. Total sales declined by 15.1 percent, with same-store sales down 12 percent. In November, same-store sales dropped by a dramatic 18.6 percent, followed by a 9.2 percent decline in December. Management says it maintained "pricing and promotional discipline which favorably impacted gross margin performance and appreciably mitigated the impact of reduced sales on aggregate margin dollars."
· Jewelry Share Groups Posted Above-Average Sales Gains – Several major jewelry share groups – which often plan group buying, merchandising, and marketing programs – reported notably stronger sales gains than jewelers who continued to slug it out by themselves in a highly competitive market. Bruce Freshley's Ideal Marketing Group members posted a solid 15.8 percent sales gain in December, well ahead of the industry average. Freshley focuses his merchandising programs on "exclusivity, sales, and profits." Exclusive products such as Heart Star diamonds builds sales and profits for members of his group. Other leading marketing groups such as the Leading Jewelers Guild reported similarly strong sales trends. By utilizing exclusive merchandise, they are able to differentiate themselves from the competition. Further, the advertising is professionally prepared. Roughly 70 percent of the prestige jewelers who participate with Howard Hauban's Centurion Jewelry group reported that their sales were up in the final two weeks of the 2009 holiday selling season. IDEX Research believes that share groups offer a major opportunity for jewelers to boost sales and profits.
· Instore Magazine Survey of Independents Shows Solid Gains – Instore magazine's survey of independent specialty jewelers showed that 59 percent of the merchants surveyed said their sales increased during December 2009. Roughly 17 percent of the jewelers surveyed – almost one in five – said their sales were up 25 percent or more in December. Just over half (55 percent) of the jewelers in the survey said that store traffic was up and 23 percent said traffic was flat, so there was no lack of customer activity. However, 54 percent of those surveyed reported a lower average ticket for the season, and 25 percent said their average ticket was about flat. It is no surprise that the average ticket was down: an overwhelming number of jewelers reported that Pandora jewelry was their best-selling brand. Retail price points for Pandora are low. Everlon, the new entry by De Beers, was the second-best selling brand, according to the Instore survey, though it was a very distant second.
· National Jeweler Survey Echoes Strong Sales for Jewelers – Jewelry demand materialized late in the holiday season this year. National Jeweler's survey of America's Best Jewelers showed that more than two-third of all jewelers (69 percent) reported that sales in the December 21-24 period were "good" or "very good." About 15 percent of the jewelers said their sales were flat, while only 16 percent said sales were down. These statistics represented a significant improvement over surveys conducted earlier in the season. Overall, National Jeweler reported that 53 percent of the jewelers it surveyed said that their holiday sales were up, and 11 percent said they were flat. One-in-five jewelers said their sales were up more than 20 percent in the holiday sales period. Only about one-third of all specialty jewelers surveyed by National Jeweler reported a decline in sales.
· Independent Jewelers Report Big Swings in Sales – There were unusually large swings in sales gains reported by individual independent jewelers during the 2009 holiday selling season. Historically, jewelers' sales results tend to cluster tightly. However, IDEX Online Research had reports of 30 percent sales gains, offset by 30 percent sales declines; this is highly unusual.
· Unit Jewelry Sales Flattish – With retail jewelry price inflation running near 3 percent, unit sales of jewelry were probably either flat or up modestly in the holiday selling season.
Broader retail sales trends during the 2009 holiday selling season include the following reports:
· Mall Sales Up; Foot Traffic Down – ShopperTrak reported that retail sales were up 1.7 percent in the November-December 2009 period, but foot traffic was down 2.9 percent. Trends in November were weak: sales were down 0.4 percent and foot traffic fell by 6.1 percent. In December, trends strengthened, especially late in the season: sales rose by 3.8 percent and foot traffic also rose by 3.8 percent.
· Multi-Line Retailers Report Mixed Jewelry Sales Trends – The following is a summary of jewelry sales reports from selected multi-line retailers:
o Neiman Marcus said fine jewelry was one of its top selling categories during the holiday season. Sales of jewelry were strong in both its Neiman Marcus stores and its Bergdorf Goodman units.
o Saks Fifth Avenue said jewelry was one of its weakest categories.
o BJ's Wholesale Club said jewelry was one of its weakest performing merchandise categories during the holiday period.
· OECD Data Shows Strengthening Global Economy – The OECD, a Paris-based global think-tank, reported that leading economic indicators strengthened across the world during November. It said that leading economic indicators in the U.S., the Euro area, China, Russia, and Japan all posted gains over the prior year.
Final Thoughts: Jewelers With A Positive Attitude Performed Well
What caused those large swings in jewelry sales results for the holiday selling season? Jewelers who went into the season with a goal of generating improved sales generally were successful. However, jewelers who sat around moaning, whining, and complaining about how bad things were – created a self-fulfilling prophecy for themselves, and their sales were in line with their expectations: weak.