IDEX Online Research: U.S. Jewelry Sales Up Sharply in November
January 21, 10
Jewelry demand showed a significant recovery in November 2009 compared to the same month a year ago. The improvement in mall traffic coupled with consumers loosening their purse strings has benefited jewelers with increased consumer spending in the first month of the all-important holiday selling season.
Here are the key statistics:
· U.S. Total Jewelry Sales for November 2009 = +5.9 percent
· U.S. Specialty Jewelers' Sales for November 2009 = +8.8 percent
The graph below summarizes monthly sales trends for U.S. jewelry sales for both total jewelry sold by all retailers – discounters, multi-line merchants, mass retailers, specialty jewelers, and all specialty retailers – as well as jewelry sold by specialty jewelers only. As the graph illustrates, jewelry sales showed strong positive gains in November, after lagging for the first eight months of the year.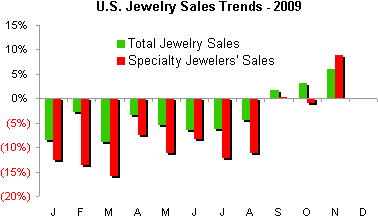 Source: Dept of Commerce
Outlook: Improving Significantly
Most jewelers have indicated that holiday season sales started off slowly, and built to a crescendo in the two weeks prior to Christmas. Thus, we look for an even stronger percentage gain for December 2009 jewelry sales.
However, before the celebration begins, it is important to note that these percentage gains are distorted, since both November and December 2008 jewelry sales were dismal. Thus, comparisons were easy in the November-December 2009 holiday period. Specialty jewelers' sales were roughly $2.4 billion in November 2009, up solidly from the prior year's depressed $2.2 billion, but still well below the $2.7 billion jewelry sales level posted by specialty jewelers in 2007.
Next Sales Report
December and year-end 2009 total jewelry sales will be reported in early February, and specialty jewelers' December and year-end sales will be available in mid-February.
For Further Information
For the full November 2009 jewelry sales report, please click here.