India's Net Polished Diamond Exports Rise 7%
January 21, 10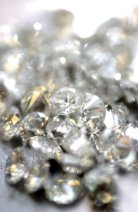 India's polished
diamond exports grew
4.6% since April

India
's gross polished diamond exports grew by 65.7 percent in December, exporting $1.29 billion worth of polished diamonds with a total weight of 4.87 million carats, a 77 percent increase in volume compared to December 2008. This is the fourth consecutive month that polished exports have risen, according to provisional data released by the GJEPC.
The sharp year-over-year rise in exports is an indication that retailers selling jewelry set with the goods have cleaned their inventory as they were preparing for the holiday season. The average value of December exports stood at $264.70 per carat.
While the figures declined compared to exports in November, when India exported $1.3 billion worth of polished diamonds weighing 4 million carats at an average of $325 per carat, this is still a positive sign. Exports in December are usually a fulfillment of late orders.
Exports in the first nine months of the fiscal year totaled $12.06 billion, growing 4.6 percent compared to 2008.
Gross imports were also on the rise, growing 48.3 percent to $905.7 million on imports of 2.91 million carats, a 49 percent growth in volume.
Net exports in December totaled $384.3 million on shipments of 1.96 million carats, an average $196.07 p/c. These exports represent a 6.9 percent rise over the $359.55 million in net exports in December 2008.
The large December imports have a number of reasons: returns of unsold goods from consumer markets, shipments from polishing facilities in China and imports from other centers to fulfill orders to global consumers as well as supplies to the budding local consumer market.