VicenzaOro Good for Jewelers, But Diamond Dealers Fret
January 21, 10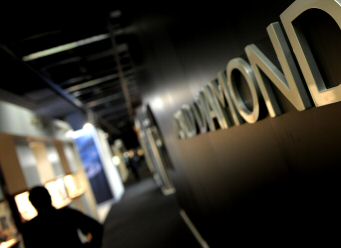 Diamond traders said they did not see much foot
traffic into their booths
January's VicenzaOro First trade show lived up to its reputation as
the
place to see the leading design elements of the year. But while the Italian style reigned supreme, diamonds were of less interest to buyers, leaving several traders wondering whether they should even return next year.
In shows with a small diamond trading presence, such as the VicenzaOro show, jewelry usually gets most of the attention and it's not until the last couple of days when diamond wholesalers see serious traffic. This was not the case in Vicenza this week.
The demand that traders reported were for round certified goods in H colors and higher, in the SI-VS clarity range and in a wide range of sizes - from pointers to thee carat goods.
Most traders reported poor demand and weak sales. When asked about price points, most diamantaires were reluctant to discuss figures. This may have been the issue. An Israeli trader who reported good sales said that most of his colleagues had set their prices too high.
If high prices were the barrier, then VicenzaOro was a repeat of the Hong Kong show in October – where those that lowered their prices by a few percentage points reaped the reward of a large volume of sales. Volume is the name of the game in the diamond industry, which is notorious for its low margins.
A large Indian manufacturer, a Diamond Trading Company (DTC) Sightholder, also reported good sales, and hinted that price was the issue.
The economic slowdown that hit the Italian economy had been reflected in the September VicenzaOro show. By comparison, jewelry designers reported much better business this past week. Their optimism was not marred by the fact that sales and orders did not catch up yet with pre-crisis levels. They know well that their unique designs and high-quality manufacturing is fit for the New Normal.