IDEX Online Research: Polished Diamond Prices Move Up Solidly in January
February 04, 10
Global polished diamond prices edged upward for the second consecutive month in January 2010, according to the IDEX Online Polished Diamond Price Index. As the global economy has improved, diamond prices have also begun to recover.
· The IDEX Online Polished Diamond Price Index averaged 110.12 for January 2010. This was notably above the 108 or so that it averaged for most of 2009.
· The IDEX Online Polished Price Index started the month at 109.4 and ended the month at 111.5. The index showed steady gains throughout the month.
The graph below illustrates the IDEX Online Polished Price Index over the past two years.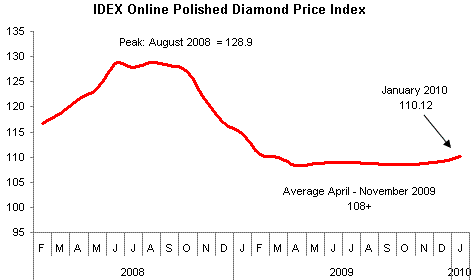 Source: IDEX Online Research
U.S. Economy & Diamond Prices Moving Together
After languishing for most of 2008 and early 2009, the U.S. economy showed a solid recovery beginning in the third quarter of 2009, when Gross Domestic Product (GDP) increased 2.2 percent. Preliminary GDP for the fourth quarter of 2009 showed a solid growth of 5.7 percent. Historically, jewelry demand and GDP move more or less together.
Because U.S. consumers purchase roughly half of the world's diamonds and diamond jewelry, a strengthening economy in America is good news for the diamond industry. Polished diamond prices have begun to brighten because of the prospect that shoppers will loosen their purse strings and start buying diamonds, diamond jewelry and other jewelry accessories in greater numbers.
Further, economies in other diamond-consuming nations have also begun to stir from their recessionary doldrums. Thus, there is an expectation that diamond demand will pick up globally during 2010.
Diamond Price Improvement Concentrated in Smaller Carat Stones
While shoppers did not stop buying jewelry during the recession of 2008-2009, they were more value-conscious. They bought "down" – that is, they purchased smaller, lower-quality stones. Many forecasters suggest that this trend towards less conspicuous consumption will continue through 2011 and perhaps thereafter.
As a result of current consumer demand trends, month-to-month prices for stones below three-carats rose but prices for larger diamonds – four carat and above – fell in January from December 2009.
The graph below illustrates current monthly price trends by stone size.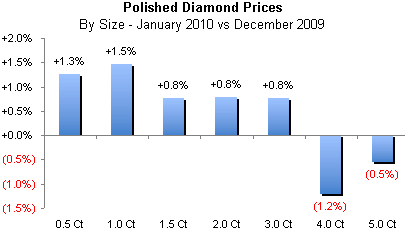 Source: IDEX Online Research
Outlook: Polished Diamond Prices Will Continue to Rise
It is as inevitable as the rising and falling ocean tides: diamond prices will rise again, after falling for the past year or more. Diamond price cycles may not be as predictable as the tides, but demand for diamonds and diamond jewelry will recover.
Click here for the full January 2010 polished diamond prices analysis.