IDEX Online Research: January U.S. Jewelry Sales Show Solid Gain (Full Report)
March 17, 10
American consumers were in the malls in January 2010 — and they were shopping for jewelry. Total jewelry sales for the month were up 5.8 percent; against a moderate 8.4 percent decline in January 2009. While jewelry sales are recovering, they still have a way to go before they will be at or above pre-recession levels. IDEX Online Research is expecting U.S. jewelry sales to grow by about 4 percent this year.
The solid jewelry sales gain – along with sales gains in most retail categories – has been a surprise to many economists. They cite a slow recovery in the labor markets as a constraint to consumer spending. They cite winter storms as a constraint; they cite a weak real estate market; they cite a variety of reasons, many of which reflect their lack of a fundamental understanding of how the typical American shopper thinks. Further, one economist even had the audacity to suggest that retail sales were strong, despite a downturn in the Consumer Confidence Index.
For IDEX Online Research, current jewelry sales trends are broadly in line with our forecasts. The difference between the economists' forecasts and our forecasts is this: most economists make their predictions from behind a desk in a major money center.IDEX Online Research makes its forecasts based on talking with retailers and shoppers across heartland America. We're not always correct, but we have a better "batting average" than economists who don't understand consumers.
Regarding the disconnect between consumer confidence levels and retail sales: it may seem illogical, but there is a very low correlation between the Consumer Confidence Index and Retail Sales Trends. Even the purveyors of those measures – the University of Michigan and the Conference Board – note that these measures should not be used as a predictor of retail spending.
January Jewelry Sales Outpace Total Retail Sales
As expected, jewelry sales gains were stronger than total retail sales gains in January 2010. This is normal: as the economy is weakening, jewelry demand typically falls faster and further than total retail sales, but when the economy is recovering, jewelry sales typically rise faster and further than total retail sales. While there is not a perfect correlation to this adage, these historical patterns have held more or less true over the longer term.
In January 2010, a post-recession recovery period, total retail sales (excluding auto sales) rose by a solid 3.8 percent. In contrast, jewelry sales rose by a more robust 5.8 percent during January this year. A year ago, in January 2009, jewelry sales fell more than total retail sales, in line with expectations.
The following graph summarizes and compares fifteen months of retail sales trends (ex-auto) to total jewelry sales (all merchants).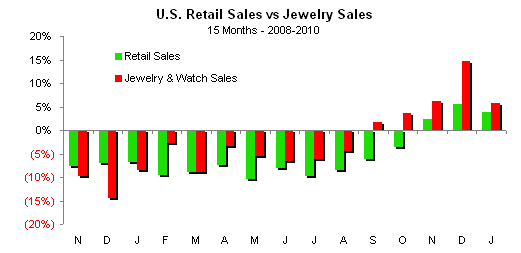 Source: Dept of Commerce
Watch Sales Weaker Than Jewelry Sales in January
Jewelry sales gains were stronger than watch sales gains during January 2010, continuing a long term trend. Consumers can tell time using their mobile phones and computers, so the need for a wrist watch (or any other specialty timepiece) is not as great in today's techie world.
The graph below summarizes jewelry versus watch sales trends for the past fifteen months.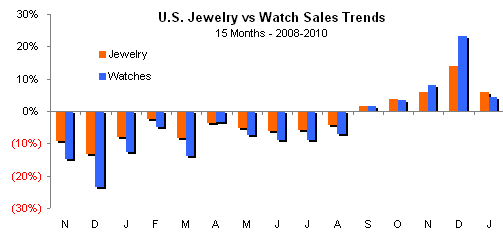 Source: Dept of Commerce
We note, however, that January 2010 watch sales as reported by the Department of Commerce were much weaker than watch sales reported by the LGI Network. According to LGI, which tallies fine watch sales at specialty jewelers across America, same-store watch sales rose by 18 percent in January. Sales were particularly strong for watches retailing for several retail price ranges: $300-500; $800-1,500 and, $10,000-25,000. LGI doesn't report watch sales below $50 retail. As a result, we believe that demand for low-end watches is apparently very weak. In our retail store visits (primarily discounters, pharmacies, convenience stores, etc.), there is heavy discounting among watches in the $20 range and below, likely a result of moving obsolete inventory.
Specialty Jewelers' January Sales Gain Strong
Specialty jewelers – merchants whose primary business is selling jewelry – posted a solid sales gain in January 2010 of 8.2 percent. Three factors likely drove this gain: 1) demand for jewelry was strong in the 2009 holiday selling period, and the momentum carried into January; 2) consumers are seeking "something different" that can only be found at specialty jewelers; and 3) specialty jewelers are doing a better job of communicating their value proposition.
The graph below summarizes specialty jewelers' sales trends for the past fifteen months.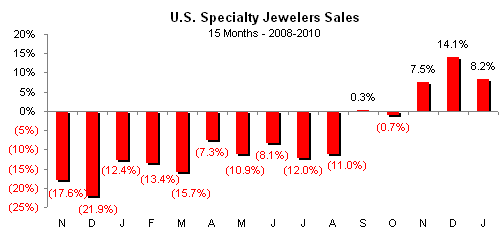 Source: Dept of Commerce
Specialty Jewelers Pick Up Market Share in January
Specialty jewelers picked up market share in January 2010, after losing share to other merchants selling jewelry during almost every month in 2009. Last year, consumers were on a "value" quest; shoppers hunted hard for the best values. If January is any indication, it may be that shoppers are more willing to spread their shopping around to a wider variety of retailers.
The graph below shows that specialty jewelers, with their January 2010 sales gain of +8.2 percent, outpaced the sales gain for the total jewelry category of +5.8 percent.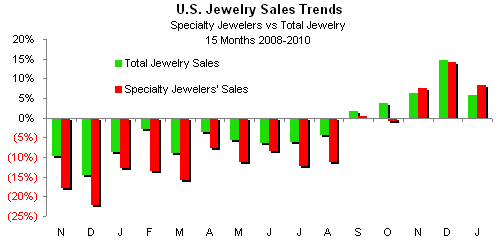 Source: Dept of Commerce
New Metric: Jewelry Sales Trends by Non-Specialty Jewelers
Just under half of all jewelry purchased by American consumers is bought in a specialty jewelry store. However, specialty jewelers have been losing market share for the past three decades. They held a market share of nearly 73 percent in the early 1970s; in 2009, specialty jewelers' market share dropped to just over 46 percent.
While total jewelry sales in January 2010 were up 5.8 percent, and specialty jewelers' sales were up 8.2 percent, jewelry sales at all other merchants – such as J.C. Penney, Wal-Mart, Kohl's, Sears, and other multi-line non-specialty retailers – were up a much more modest 3.7 percent, as the graph below illustrates.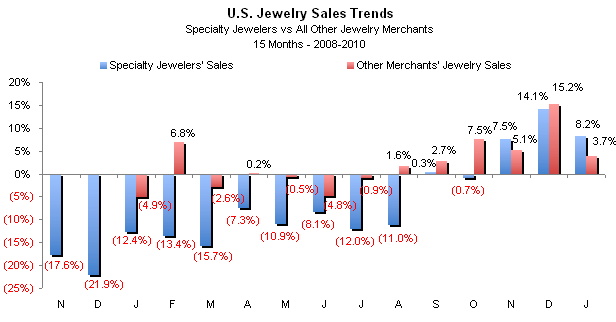 Source: Dept of Commerce
Data Summary Table
The following table summarizes the data used to construct the graphs in this report.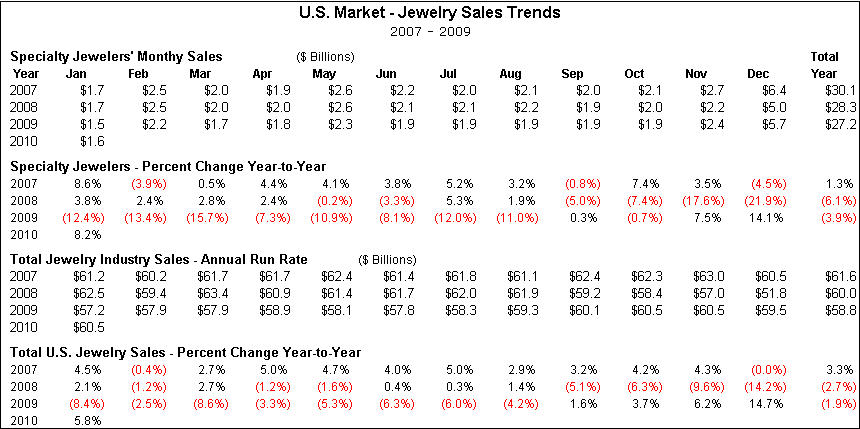 Source: Dept of Commerce
Outlook: Jewelry Demand Will Continue to Firm
IDEX Online Research is forecasting that jewelry sales in the U.S. market will continue to strengthen as the year progresses. The percentage gains may remain moderate, but underlying fundamental demand is expected to solidify, culminating in a strong 2010 holiday selling season.
In addition to fundamentally stronger demand, we expect jewelry prices to show significant inflation during 2010, led perhaps by diamonds.
Between increased consumer spending and inflation, we are expecting U.S. jewelry sales to advance by about 4 percent this year to just over $61 billion. While the current annual run rate for jewelry is $60.5, this assumes a mathematically "straight line" gain for the year. IDEX Online Research is projecting an exponential sales gain – as the year progresses, the percentages will compound.
The graph below summarizes our latest forecast for 2010 and beyond for the U.S. jewelry market.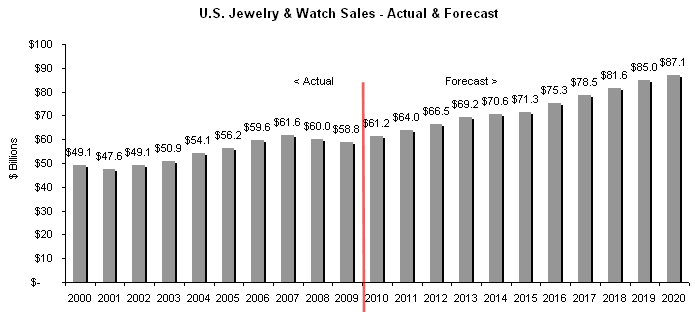 Source: Dept of Commerce
The following graph summarizes the percentage change in sales year-to-year. IDEX Online Research is projecting an economic slowdown in 2015 and 2020; this is about in line with historic five-year cycles in the American economy.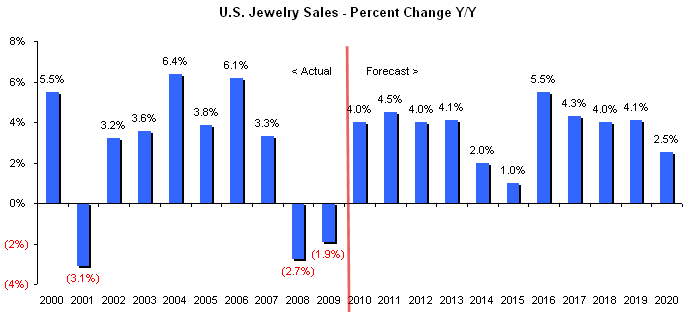 Source: Dept of Commerce