IDEX Online Research: Tiffany & Co. On A Roll
April 01, 10
"What a difference a year can make." That's how Tiffany's Mark Aaron, vice president of investor relations for Tiffany & Co., opened the recent investor conference call which summarized fourth quarter and full year results for 2009.
Aaron continued, "On our conference call last March [2009] we were experiencing the depths of the economic downturn and were reporting a sales decline in that fourth quarter and a drop in earnings. Against that backdrop it is much more pleasing to be discussing the results we've achieved in our latest fourth quarter, where worldwide sales rose 17 percent, and we posted strong earnings from continuing operations at the upper end of our expectations."
The table below summarizes Tiffany's financial results for the fourth fiscal quarter ended January. It is clear that the company experienced an extremely strong recovery in the three-month period including the 2009 holiday selling season. The rebound is most obvious with Tiffany's "bottom line" net profit: it increased to $138.2 million this year from $31.1 million last year. In short, it was roughly four-and-a-half times as great this year versus the prior year.

Source: Tiffany & Co
Current Situation: Strong Sales, Above Plan
Tiffany's CEO Michael Kowalski allowed investors a glimpse of the current sales trends in the first fiscal quarter (February, March, April) of 2010: "In terms of the current environment, we are now a little more than half way through our first quarter, and [we] are pleased that worldwide sales growth is exceeding our first quarter plan which calls for a high teens percentage increase."
U.S. Sales Up 12 percent in Fourth Quarter
Tiffany reported that its fourth fiscal quarter (November, December, and January) total U.S. sales rose by 12 percent, with U.S. same-store sales up 11 percent. In contrast, preliminary numbers from the U.S. Department of Commerce indicate that total U.S. jewelry sales rose by 9 percent in that time period, so Tiffany picked up market share from both other specialty jewelers and all other merchants who sell jewelry.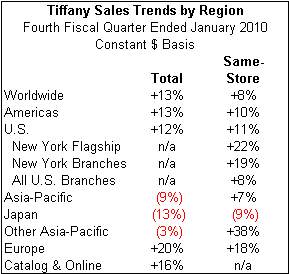 Source: Tiffany & Co
Tiffany's Success: More than the Blue Box
Tiffany is clearly outperforming the rest of the industry. While its blue box has an unrivaled allure with consumers, the company is also doing many thing "right." Tiffany management essentially took a page out of its history, and repeated recession strategies from the past: it made good deals on real estate, and it kept a strong flow of new products coming into its stores.
Tiffany management wasn't all that bold, but they are smart. They recognize that cycles are just that: ups and downs related to the business. They know that just as the tide rises and falls, business cycles rise and fall. Unless one believes that American-style capitalism is dead, then it is a sure bet that the economy will rebound, and business will improve. Tiffany management understands all of this.
What Jewelers Can Learn from Tiffany
Here are some strategies that Tiffany followed during the recession, many of which are a springboard for growth as the global economy recovers:
· New Product Flow Unabated – Tiffany continued to introduce new products, both under the Tiffany brand as well as from its designer brands. These new products gave shoppers a reason to come into the Tiffany stores.
· Sales Training Paid Off – Tiffany's conversion rate – converting browsers to buyers – increased significantly. Clearly, Tiffany implemented sales training designed to help its sales people close sales. Tiffany management knew that it would be tough to generate sales, but they were proactive with sales training, and it paid off.
· Online Sales Rise – Tiffany focused online sales efforts. Despite cutting catalog circulation, internet and catalog sales rose by 16 percent in the fourth quarter. For the full year, combined online and catalog sales were down only 1 percent due to a smaller average order offset by more orders. Again, this shows that management was proactive in developing every opportunity to reach its current and potential customer base. Online and catalog sales now represent more than 10 percent of total sales in Tiffany's stores in the Americas.
· New Stores Opened – Tiffany opened three stores in the U.S. in 2009, and plans to open at least four more in 2010. By continuing to make real estate deals, especially in the depths of the recession, Tiffany probably got deals that won't be available again until the next economic slowdown. Smart jewelers tied up good real estate during the recession. With the market still depressed, it may be possible to find real estate deals, but most real estate developers recognize that the economy is on the rebound, so the "deals" have begun to evaporate.
· New Prototype Store Planned – Tiffany had two store prototypes in the past: a 5,000 square foot unit and a 2,500 square foot unit. Going forward, it plans to open hybrid 3,700 square foot units that will have the full product line typically found in the larger stores, but in a more concentrated and productive space. A typical U.S. specialty independent jewelry store is about 1,800 square feet, according to the most recent Jewelers of America Cost of Doing Business Survey. A typical high-end AGS-type store tends to be a little larger than the industry average (just over 2,000 square feet) while a typical mall-based chain store tends to be smaller (1,500-1,600 square feet).
Highlights from Fourth Quarter Ended January 2010
The following are factors that helped drive Tiffany's sales gains in the fourth fiscal quarter:
· Store Traffic Was Up – Store traffic recovered from the steep declines in the early months of 2009, but only to the average level seen in the fourth fiscal quarter of 2008. This is consistent with reports from many retailers: consumers have returned to the malls and stores, but traffic is not back to pre-recession levels.
· U.S. Same-Store Sales Rose By 11 percent – This was in contrast to last year's fourth quarter decline of 33 percent. By month, same-store sales were up 16 percent in November 2009, up 10 percent in December, and up 6 percent in January 2010.
· U.S. Sales Growth Was Geographically Broad-Based – Sales in the New York flagship store rose by 22 percent in the fourth quarter, while sales were up by 19 percent in the nine stores in the New York region. Overall branch store same-store sales rose by 8 percent in the fourth quarter, and were up broadly across all regions of the U.S.
· Flagship New York Store Is Company's "Big Gun" – For the full year, the New York flagship store represented about 9 percent of corporate sales, down modestly from the prior year's 10 percent of corporate sales. The five highest volume stores were South Coast Plaza in Orange County California, followed by San Francisco, Chicago, Washington, DC, and Beverly Hills.
· Fourth Quarter Sales Driven By Tourists And Locals – Local customers came back into Tiffany stores in the fourth quarter, and overseas tourists also helped boost sales. As a result of strong tourist spending in Tiffany stores in the fourth quarter, tourist sales were about 15 percent of total Tiffany sales for the year, in line with about 16 percent of sales in 2008 and about 14 percent of sales in 2007.
· Sales Up For All Price Points – In contrast to past periods, Tiffany's sales rose for merchandise at all price points. Previously, sales had been weaker at the highest price points.
Tiffany's Outlook for 2010
Tiffany plans accelerated growth in 2010, driven by the following:
· Accelerated New Store Growth In All Markets – The company's current plan calls for opening 17 new stores in 2010, including six in the Americas (at least four in the U.S.), eight in Asia Pacific, and three in Europe. This equates to an 8 percent gross increase in the number of locations and a 5 percent increase in gross square footage. In the Americas, new stores have been announced for Baltimore, in Towson Center; Jacksonville, in St. Johns Town Center; Los Angeles, at Santa Monica Place; and, Houston, at the Woodlands.
· Many Opportunities For New Stores In The U.S. – Tiffany currently has 79 stores in the U.S. Management says that the U.S. market can support 150 Tiffany stores, based on its new hybrid 3,700 square foot unit.
· Other Expansion – Tiffany plans to expand online commerce into Europe. Further, it has added some new designers to its line as well as a new collection of yellow diamonds. Finally, the company plans to introduce designer leather handbags. Tiffany management clearly understands that its competition is women's accessories, and we believe it will be adding more of these lines to its product offering.
· Marketing Spend To Accelerate – After cutting back modestly on marketing expenditures in 2009, management said that it plans to increase its marketing budget during calendar 2010 in an effort to boost market share. Consumers will be hearing more messages from Tiffany this year.
· Global Sales Up, But Inventory Growth Modest – Tiffany plans a worldwide sales increase of about 11 percent in 2010, but management says its inventory levels will grow by only a high single-digit increase. In short, Tiffany plans to manage its inventories closely in an effort to boost productivity.
· Sales Up Low Double-Digit in Americas – Tiffany plans for sales to rise by a low double-digit level in the Americas, including the U.S. In other regions of the world, sales are expected to increase by a high single-digit level in Asia-Pacific (a low single digit decline in Japan offset by 20 percent or more growth elsewhere in the region). In Europe, sales are expected to rise by a mid-teen level.
· Profits Up – For the full year, Tiffany management is expecting profits to rise by at least 15 percent. Historically, Tiffany generates profits in every quarterly period during the year; we expect this trend to continue in 2010.