U.S. Polished Trade Grows in Feb, But Negative Trend Evident
April 14, 10
The U.S. imported $1.26 billion worth of polished diamonds in February, a 62.4 percent year-over-year increase. In terms of volume, imports rose 44.7 percent to 932,877 carats. However, unlike previous years when February imports are larger than January's imports, this year there was an uncharacteristic decline.
The average value of imports increased 12.2 percent to $1,347.58 per carat compared to $1,200.57 p/c in February 2009.
Israel supplied the U.S. with about half (43.8%) of the total goods by value, $550.22 million worth of diamonds weighing 186,039 carats at an average value of $2,957.55 p/c.
India was the source of more than two thirds (68.1%) of the goods by volume, 635,051 carats, worth $375.49 million, an average value of $591.27 p/c.
Polished diamond exports totaled $964.3 million on shipments of 2 million carats averaging $481.67 p/c. Net imports totaled $292.85 million.
It should be noted that the rise in trade in the first two months of the year are against the depressed 2009 figures. Compared to 2008, gross imports are still down, some 23.6 percent below February 2008.
The lower figures are to be expected. Recovery is slow, stocks were high and the turnaround will take time. On the upside, the turnaround is taking place. On the downside, the decline in imports in February compared to January is unusual. In February 2009, imports rose by 2.5 percent from January. In 2008, the increase was 10 percent.
It is not clear why the change took place. It may be an anomaly or indicate that the quick replenishing that took place slowed down.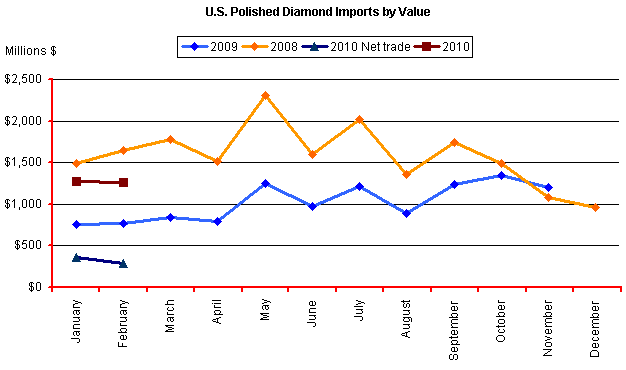 Source: USITC