Antwerp Heist Movie Has Script Writer
May 23, 10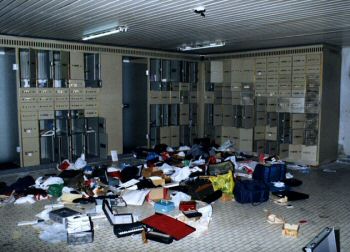 The Grunberger building vaults after the break in.
Expect a Hollywood version of this event in a theater
near you in a couple of years.
A
Hollywood movie based on the 2003 Antwerp diamond theft is currently under development. The movie is based on a
Wired
magazine article that details the €100 million theft.
Paramount acquired the rights to adopting the article to a movie, which will be produced by J.J. Abrams, whose credits include the TV series "Lost," and the movie "Mission: Impossible III." Phil Alden Robinson, who wrote and directed "Field of Dreams," is writing the script.
During the weekend of February 15-16, 2003, four men broke into over 123 of the 160 safes in the basement of the Grunberger building vaults, removing an estimated €100 million in rough and polished diamonds, jewelry and other goods.