DTC H1 Sales $2.6 billion, De Beers Returns to Profit, CEO Penny Resigns
July 23, 10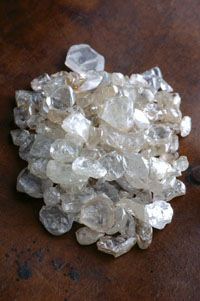 Increase in production, sales,
prices and a return to profit
reported by De Beers for H1.
CEO Penny is stepping down
after five years.
De Beers returned to profit, in what can be called a dramatic half year results announcement. CEO Gareth Penny announced his resignation after five years at the helm as the company reported an 84 percent jump in Diamond Trading Company (DTC) sales to $2.6 billion and a 133 percent leap in production to 15.4 million carats.
The mining company reported earnings before interest, taxes, depreciation, and amortization (EBITDA) of $762 million compared with $297 in the first six months of 2009. Net earnings of $301 million compared to $3 million the year before.
The increase in production in the first six months of the year reflects the low production levels in the first half of 2009, and was in response to increased demand from DTC Sightholders following a better than expected Christmas season as well as steady improvements in market sentiment, De Beers said.
Venetia mine produced two million carats in the period (2009: 0.7 million), Jwaneng mine 5.3 million carats (2009: 2.3 million) and Orapa mine 4.3 million (2009: 1.4 million). Debswana's Cut-8, the major expansion project at Jwaneng mine, is under way.
The results are announced on the last day of the sixth DTC Sight of 2010. DTC rough diamond prices are now, on average, comparable to June 2008 pre-recession levels, the company disclosed.
Discussing its downstream activities, the company said it saw strong double digit growth in consumer demand from China and India and a modest improvement in demand from the U.S.
The Forevermark diamond brand has "expanded rapidly across Asia," now offered at 289 doors in China, Hong Kong and Japan.
"Much of this growth can be attributed to mainland China where the brand has been rolled out to 10 cities with plans for further expansion this year."
De Beers Diamond Jewellers, De Beers' joint venture with LVMH, has seen a healthy rebound in sales in the first half of the year after a difficult 2009.
Element Six, which manufactures lab diamonds for industrial use, reportedly had a strong first half.
The resignation of Penny took many by surprise, giving rise to immediate market speculation. IDEX Online learned that Penny discussed his resignation with senior staff Wednesday evening, expressing satisfaction with the company's return to healthy activity, yet discussing the many long hours and hard work that kept him away from his family.
A successor is yet to be named. Chief Financial Officer Stuart Brown and Chief Commercial Officer Bruce Cleaver will serve as acting joint-CEOs as the search for a new CEO is underway.
In its outlook, De Beers said the global economic climate remains fragile especially in the important diamond markets - the U.S., Japan and Europe. De Beers views the remainder of 2010 "with caution and measured optimism," predicting a period of market stabilization in the next six months.
"With most restocking activity by the trade now largely completed, further demand growth is dependent on increases in consumer demand, and De Beers remains encouraged by the strength of demand in the emerging markets of Asia, particularly China and India."