IDEX Online Research: Specialty Jewelers Lose Significant Market Share in Recent Recession
May 22, 11
(IDEX Online News) - Specialty jewelers in the American market continue to lose significant market share to multi-line merchants who sell jewelry.
Newly revised jewelry sales data from the U.S. Department of Commerce shows that specialty jewelers' sales accounted for just over 42% of all jewelry sold in America during 2010. In 2009, specialty jewelers sold nearly 44% of all jewelry purchased by American consumers.
Four decades ago, specialty jewelers held a huge 73% market share in the U.S. – that is, they sold about 73% of all jewelry, based on retail value, purchased by consumers in America.
Recession Takes Toll on Specialty Jewelers' Sales
Specialty jewelers experienced a sharp fall-off in market share in the most recent recession of 2008 and 2009. Specialty jewelers went into the recession with a 50% market share in 2007, and ended with a 42% market share in 2010.
How did this happen? While specialty jewelers' sales grew by nearly 4% in 2010, jewelry sales by other merchants grew at a rate nearly double – 7% – the rate that specialty jewelers' sales increased.
Historically, specialty jewelers lose market share in a recession, and they are never able to recover it when the economy rebounds.
The graph below illustrates the trend in specialty jewelers' market share over the past forty years.

Source: NBER, BLS, JIRI, Dept of Commerce
Specialty Jewelers' Value Proposition May Lack Credibility
Specialty jewelers historically have lost market share in recessionary periods, and they have not been able to recover that lost ground in the post-recession period. Why? Shoppers are seeking value, and American jewelers apparently have not successfully created a credible value proposition for consumers. As a result, American consumers seek and find value-priced jewelry at retailers such as Wal-Mart, J.C. Penney, Costco, and others. Once they have found a new source for jewelry – at sharp prices – they tend to continue to shop at those value-priced retailers, even when the recession ends.
The graph below illustrates that specialty jewelers' sales decline more during a recession, resulting in a loss of market share that they never seem to recover. The red line represents total jewelry sales trends for all merchants selling jewelry in the U.S. market. The blue line represents specialty jewelers' sales.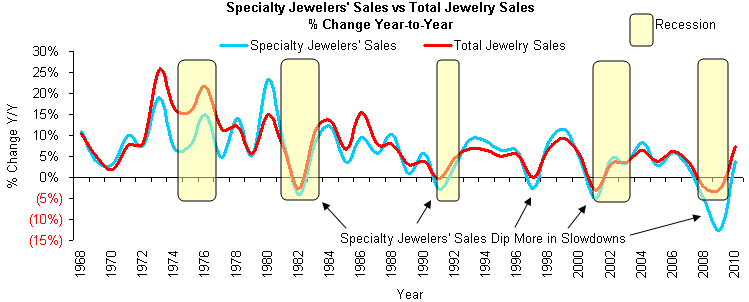 Source: NBER, BLS, JIRI, Dept of Commerce