Belgium's Polished Trade Grows, Yet Margins Shrink in 2011
January 16, 12
(IDEX Online News) – Belgium's polished diamond trade increased by more than 30 percent in 2011, however suffered from eroding margins, falling by more than 10 percent, based on annual figures released Monday.
Belgium's net polished diamond exports in 2011 totaled $606.6 million, a 22.6 percent decline, based on AWDC figures. The year-over-year decline comes as the rise in imports outpaced the increase in exports.
Gross exports of 8.5 million carats worth $14.64 billion, increased 8.8% and 31.9%, respectively.
Exports increased to 9 million carats worth $14.03 billion, up 11 percent by volume and 36 percent by value. This led to a decrease in total stock held by the trade in Antwerp, dropping more than half a million carats, based on the figures.
More importantly, in a year marked by decreasing liquidity, the trading center suffered from eroding margins. The added value shrunk to 10.5 percent in 2011 from 11.8 percent in 2010.
The U.S. was the leading export destination, taking in a net of $953.4 million, followed by Hong Kong with $781.2 million. The third leading destination of net exports was Switzerland, $240.6 million.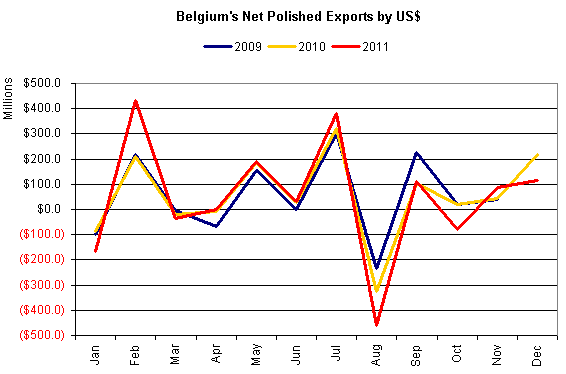 Source: AWDC