IDEX Online Research: U.S. Jewelry Sales Set Record $68.3 Bln in 2011
February 01, 12
(IDEX Online News) – Total U.S. jewelry and watch sales were a record $68.3 billion in 2011, a gain of 11 percent over 2010, based on preliminary data from the U.S. government.
This was well ahead of 2010's $61.5 billion, and substantially ahead of the prior record year – 2007 – when U.S. jewelry and watch sales were $65.3 billion, as the graph below illustrates.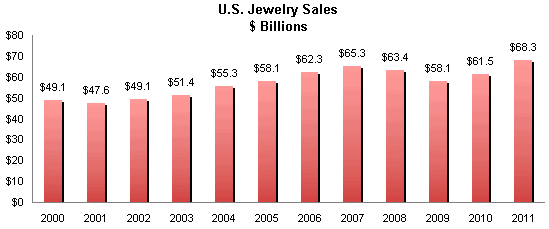 Source: US Dept. of Commerce
In the 2007-2009 period, the U.S. economy was in a recession. While many jewelers claimed hardship, the recession actually had only a modest impact on retail jewelry sales. Peak-to-valley – 2007 through 2009 – jewelry and watch sales dropped by only 11 percent in the U.S. market before posting a solid recovery in 2010 and 2011.
Total jewelry sales rose by 10.8 percent to $59.2 billion in 2011, while total watch sales rose by 12.1 percent to $9.1 billion. Watch sales were 13 percent of total industry sales, stable with the prior couple of years.
The total industry sales gain was the first double-digit increase since the mid-1980s, when the industry posted several years of sales gains in the low-to-mid teen range.
Most of the sales gain in 2011 was due to inflation related to higher costs of precious metals and polished diamonds: retail jewelry prices were up by about 8.4 percent during the year, so "real" jewelry sales rose by about 2.6 percent.
A full analysis of 2011 jewelry sales will be available for IDEX Online members and research subscribers later this month.