Israel's Rough Diamond Exports Sagging
June 13, 12
(IDEX Online News) – Israel's net rough diamond exports totaled $294.7 million in May. The country's rough diamond trade increased in May compared to April, however over all, it has been shrinking in 2012.
Year-over-year, May's rough diamond exports declined 31 percent, based on figures released by the Central Bureau of Statistics.
However, these exports are a 68.4 percent increase compared to April of this year.
Israel, previously a thriving diamond manufacturing center, today serves mainly as a commercial and sorting center that ships goods to polishing facilities in Asia.
In the first five months of 2012, Israel exported $1.24 billion worth of rough diamonds, a 32.7 percent decline compared to the January-May period of 2011.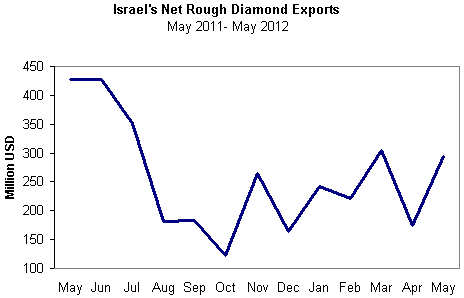 Source: Central Bureau of Statistics