Ganz: Major Role Makes India Right Place to Hold 35th WDC Congress
July 25, 12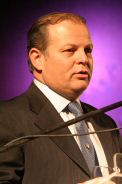 Moti Ganz
(IDEX Online News) – International Diamond Manufacturers Association (IDMA) president Moti Ganz believes India is the right place for this year's World Diamond Congress (WDC) owing to the major role it plays in the global diamond and jewelry industries.
"India is one of the leading manufacturing powers in the diamond and diamond jewelry industry and trade," he says. "At the same time, as our industry is going through some very challenging times, both in the rough and polished diamond market, it is also among the first to be affected by those challenges."
"Mumbai is therefore the correct place to discuss the state of our industry and to reach a consensus on how to propel our industry forward and increase its market share in the luxury consumer product market."
A mini-conference will also be held as part of the congress. The conference organizers say the event "will focus on external and internal issues that confront the diamond industry, as a result of which it finds itself at a turning point today."
The 35th WDC Congress, the joint biennial meeting of IDMA and the World Federation of Diamond Bourses (WFDB), will be held in Mumbai, India, October 14-17. The event is being organized and hosted by the Gems & Jewellery Export Promotion Council (GJEPC) and the Bharat Diamond Bourse (BDB).