The IDEX Online Polished Price Report for August 2, 2012
August 02, 12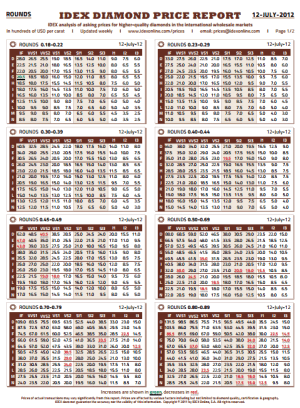 Click here for the IDEX Polished Price Report

(IDEX Online News)
– Round goods keep slipping, while many Fancy cuts remain in steady and even increasing demand. Rounds from 0.23 to 2.99 carats are declining in almost every color and clarity. Conversely, Some D / IF and I3 items are in favor, leading to good price gains.
Price increases are also seen in almost every size category of Fancy shapes. Goods from 0.50 to 1.99 carats are especially sought after, resulting in price increases of 2-4 percent, as listed below.
To receive a full free copy of the IDEX Online Diamond Price Report, please email us at prices@idexonline.com or go here. For more information about the price report, read this.
Following are some of this week's price changes:
Rounds
The recent price increases for the 0.18-0.22 cts size range ended, with most items unchanged. J / VS1 goods lost 4.6% to $1,050 p/c and D / IF rounds gained 3.6% to $2,900 p/c

0.23-0.29 cts I-K / VS1-SI2 are in decreasing demand. D / IF is up 3% to $3,400 p/c

Continued price declines among 0.30-0.39 cts, mainly D-G / IF-SI2, losing 2.0%-3.5%.

Across the board price declines for 0.40-0.44 items, mainly in the top to mid ranges

0.45-0.49 cts, softening too this weak

0.50-0.69 are suffering from another week of wide range price declines, making them an interesting opportunity for buyers

0.70-0.79 are also seeing a wide range of price declines, mainly in the D-K / VVS1-SI2 range

0.80-0.89 cts, declines widen and are now seen in the IF-SI2 clarities across all colors. Uncharacteristically, I / I2 gained 3.2% to $1,600 p/c

0.90-0.99 cts items, mainly D-J / VVS1-I2, keep losing ground. Here too, a sole item is beating the trend – J / I2, up 4% to $2,600 p/c

A wide range of declines in the 1 and 2-carat size goods.

3 and 4 cts – mainly steady, with a just few sporadic declines

5 cts goods remain steady
Fancy Cuts
0.30-0.39 cts E / VS1

decline 2.6% to $1,900 p/c,

F / VVS2

lost another 2.7%, listing at $1,800 p/c

0.40-0.44 cts are steady except F / I1, which dropped 4.8% to $10,000 p/c

0.45-0.49 cts VS1 are in demand, especially G, J and L colors

Another week of price increases for 0.50-0.69 cts items

Last week's split activity for 0.70-0.79 cts items ended. This week, E-J / VVS2-SI2 keep pushing up prices, increasing 2.4%-3.7%. K / I1 goods are also in demand, up 5.6% to $9,500 p/c

Prices are increasing in the VS1-I1 clarity range of the 0.80-0.89 cts size goods. H / IF gained 2.6%, listing at $4,000 p/c

0.90-0.99 cts, in the D-G color range, are active. Price increases, mainly in the SI1 goods. E / IF and G / VVS1, however, lost 3-4%

1.00-1.24 cts, price increases in the F-J color range

Top clarity 1.50-1.99 cts are in strong demand

4 cts D-F / IF-VVS1 remain in rising demand, up another 3% this week

5 cts, the LM / SI1 gain 3%