Kiran Gems Wins Top GJEPC Export Award
October 09, 12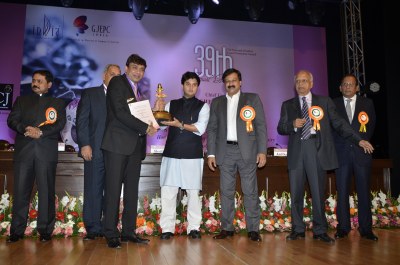 Mavjibhai Patel of Kiran Gems receives the top export award from
Minister of State for Commerce Jyotiraditya Scindia

(IDEX Online News)
– Kiran Gems won the Gem and Jewellery Export Promotion Council (GJEPC) award for top exporter in the DTC category at the GJEPC's 39th Annual Awards. Dharmanandan Diamonds, Laxmi Diamond and Sanghavi Exports were the next three, in the order of merit at the ceremony in Delhi on Monday.
In the non-DTC category, J.B. And Brothers was first, followed by Shree Ramkrishna Exports, Hari Krishna Exports and HVK International.
Surat-based Kiran Jewelry bagged the award for top exporter of studded (diamond- and gem-set) jewelry exports from an export zone, followed by Renaissance Jewellery of Mumbai and Shree Ganesh Jewellery House of Kolkata. Bhansali Trading Corporation of Jaipur was the top exporter for studded jewelry from the domestic tariff area (DTA).
The top exporter of cut and polished colored gemstones was RMC Gems India of Jaipur, followed by the export zone unit of KGK Gems.
GJEPC Chairman Rajiv Jain noted that the gem and jewelry industry had weathered global economic storms, but said that the outlook for the festival season – Diwali and Christmas– seemed improved. He hoped that the end of the year would put the bad times behind.
Indian Minister of State for Commerce and Industry Jyotiraditya Scindia, who was the guest of honor, said, "The gems and jewelry sector is one of the fastest growing segments of the Indian economy. It has also emerged a leader in earning foreign exchange. Though we face a few challenges today, especially with the rising price of gold, we can conquer them by exploring the arenas of retail, marketing, advertising, shows and exhibitions, investment in foreign companies and investments from private equity firms and corporate houses."
He added, "Analyzing the yearly growth statistics from recent years, the rise has been phenomenal.

I would like to congratulate the team at the Gem & Jewellery Export Promotion Council and wish them luck for the coming years, especially when our country has the potential to grow ten-fold in the next five years."