James Allen Unveils Ground-Breaking Diamond Display Technology
January 17, 13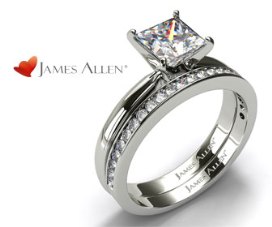 Jewelry by James Allen
(IDEX Online News) – James Allen's new website allows users to interact with its stock of diamonds without even having to leave home. Diamond Display Technology magnifies diamonds 15 times in high-resolution, allowing users to see the stones from every angle.
"A grading certificate is not enough because it cannot describe a diamond's beauty and sparkle. Some online retailers try to 'describe' their diamonds, but do you really want to buy something so meaningful without seeing it first?" says David Berkovits, marketing director at James Allen.
The jeweler has expanded its variety of diamonds to include a wide selection of yellow, pink, green, orange, blue and brown fancy color diamonds. The company is also offering natural gemstones as an alternative center stone. Currently, customers can choose from a variety of pink, yellow and blue sapphires, rubies and emeralds. The gemstone collection is set to expand throughout the year.
The rebranded site also features "The James Allen Collection," a handcrafted line of engagement rings created by top designers.
Looking ahead, Gil Weiner, James Allen's IT manager, says the company is already working on the future generation of display technologies that will be introduced later this year.