French Official Revises Up Value of Cannes Theft to $136M
July 31, 13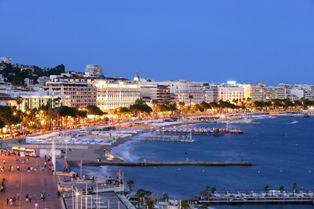 Cannes – becoming a popular setting for jewelry
thefts.

(IDEX Online News) – A French state prosecutor has provided an updated estimate of the jewelry stolen from the Carlton Intercontinental Hotel in Cannes on Sunday to $136 million from the initial figure of $53 million.

The prosecutor, Philippe Vique, told the media that the Dubai-based firm which organized the diamond show had increased the value of the goods stolen following a more complete revision of inventory.

Even at its initial figure, the theft was one of the biggest ever seen in France.

French police are searching for a lone gunman who, wearing a mask and gloves and carrying a briefcase, reportedly calmly walked into the exhibition room, threatened staff and visitors and then filled the briefcase with jewels and diamond-set watches before walking out.

The stolen diamonds had been on show at the hotel since July 20 and were due to remain there until the end of next month in an exhibition entitled Extraordinary Diamonds. They belonged to the Leviev diamond firm of Israeli diamond tycoon Lev Leviev.

The theft is the third big jewelry heist from a hotel in the Cannes area in less than three months. Thieves got away with more than $1 million worth of Chopard jewelry in May during the prestigious Cannes film festival.

The following week, a necklace said to have a value of $2.5 million belonging to Swiss jeweler De Grisogono went missing after a celebrity party at the nearby resort town of Cap d'Antibes.