IDEX Online Research: Polished Diamond Prices Rise 1% in September
October 03, 13
(IDEX Online News) – Prices of polished diamonds are rising again, as the IDEX Online Polished Diamond Index increased by 1.0 percent to 132.6 in September compared to August. One-carat rounds increased by 1.1 percent during the month.
The full analysis of the polished diamond prices is available to IDEX Online Research subscribers and IDEX Online members here.
The month-over-month increase mainly reflects the confidence wholesalers returning to work after the August vacations have in near-term demand. There are a number of additional forces pushing up prices. The modest yet clear revival comes as rough diamond prices start to moderate giving manufacturers improved financial buoyancy.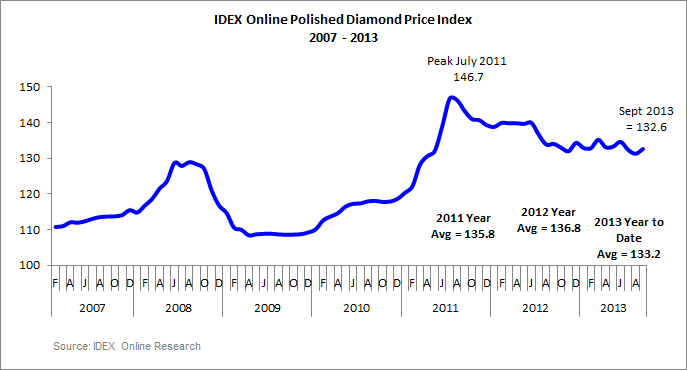 An additional reason for the price increases is the Hong Kong trade show. Historically, ahead of important trade shows prices increase as trading levels rise as traders collect goods in the market in preparation for the show.
The increase is also a continuation of the seesaw affect we have been witnessing in prices over the past year, as the graph above shows. Overall, average prices rise and fall almost every month as wholesalers and buyers are seeking the "right" price.
On a year-over-year basis, the index declined 1.0 percent. The leading reason for the lower prices in the past year is large supplies and limited demand. Manufacturers have polished a large overhang of rough diamonds and are now sitting on a big stock of polished goods.
Last month we said that the less than upbeat scenario has a positive aspect, and it is starting to become more prominent. First, as the fourth quarter nears – and brings with it the busy consumer holiday business – demand for polished diamonds is starting to pick up and the price increases that we forecast are showing.
The September Hong Kong show saw good business and solid sales that further boosted prices.
After a period of mediocre loose polished diamond demand, it appears that jewelry manufacturers and wholesalers are more confident and are willing to buy more.
The price index of 1-carat rounds increased by 1.1 percent in September and that of 2-carat rounds gained 0.7 percent on a month-over-month basis. The average price of 4-carat rounds, a very price active item, increased by a miniscule 0.1 percent during the month. Other key round diamond sizes are continuing to decline, as the following graph shows.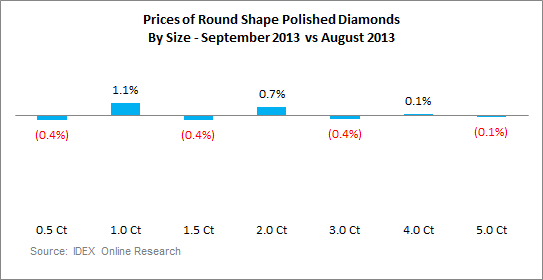 On a year-over-year basis, only 1-carat goods have increased, gaining 0.3 percent compared to September 2012. The price index for all other key size round goods declined during the month. The larger goods suffered from hefty year-over-year declines, 4-carats losing 7.9 percent and 5-carats dropping by 9.0 percent.
Half-carat rounds declined by 1.8 percent, 1.5-carat rounds by 0.5 percent and 2 and 3-carat rounds both lost 3.2 percent compared to their average price in September 2012.
After steadily increasing from the 2009 crisis, developing into runaway prices in the first half of 2011, the IDEX Online index peaked at 146.7 in July 2011, and has been on a general downward trend ever since. In the last few months, we have been seeing this trend moderating and the index is moving within a narrow band averaging about 133 since January 2013.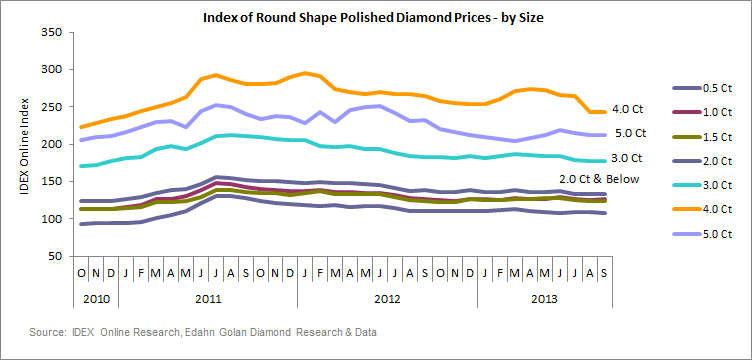 Outlook
In the U.S., retailers enjoyed a good run in the first nine months of 2013. The S&P 500 increased by 17.6 percent during the period and is set to continue its assent according to forecasts. This means that many Americans will have deeper pockets for discretionary expenses in the November-December holiday season and diamond jewelry will benefit from this spending.
Solid demand from China, despite the recent slowdown in demand growth, provides additional reasons to expect at least a moderate improvement in demand in the coming months. However, lackluster demand from Indian consumers, hurt by the weakening rupee, is dampening the global demand outlook.
With global stock markets continuing to rise, an improving U.S. economy, and expectations that the slowing Chinese economy will not deteriorate further, we expect polished diamond prices to increase in the long-term, especially with the improving Japanese economy, which is still a leading diamond-consuming market.
The full analysis of the polished diamond prices is available to IDEX Online Research subscribers and IDEX Online members here. Click here for more information on how to subscribe or become a member.