IDEX Online Research: Polished Diamond Prices Slip in November
December 04, 13
(IDEX Online) – The IDEX Online Polished Diamond Index declined slightly in November, with all round items in the 0.5-carat to 5.0-carat range down on the month. While smaller round diamonds, between 0.5 carats and 3.0 carats, were down moderately, larger stones of 4 and 5 carats dropped more sharply.
The full analysis of the polished diamond prices is available to IDEX Online Research subscribers and IDEX Online members here.
The IDEX Online Polished Diamond Index averaged 132.1 in November, declining by 0.5 percent compared to October.
A look at the wider picture shows that the index is approximately at the level it saw 18 months ago in mid-2012.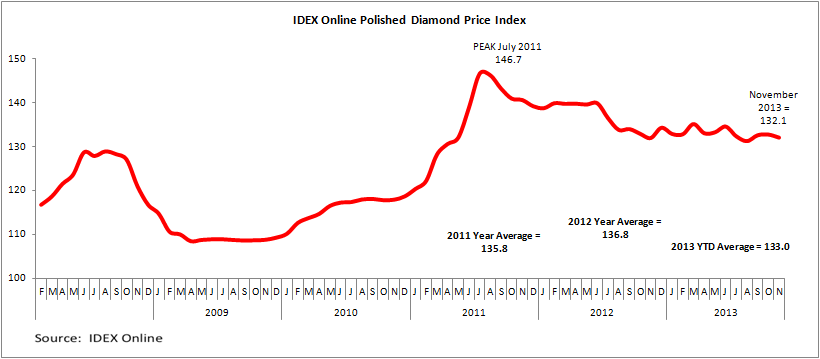 Although prices tried to put in an increase several times during 2013, they quickly ran into resistance at a level of around 134 as is clearly seen.
With the holiday season already under way, manufacturers will be further disappointed after a year of largely flat prices to see a further decline in prices. That is particularly, the case in the so-called bread-and-butter goods of rounds up to 2-3 carats.
As the below graph shows, prices drifted but in a very narrow range during November, and ended the month just about where they were at the start of the month.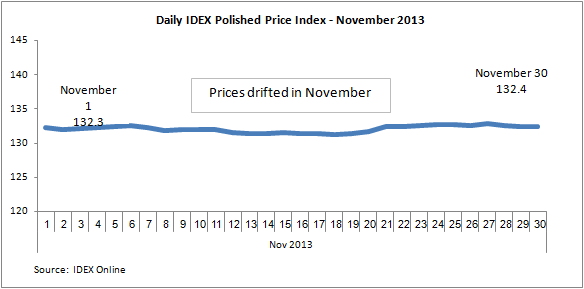 A comparison of prices in November from the October performance shows that while the prices of all rounds were down, there was a pronounced decline in the prices of 4 and 5-carat diamonds.
While smaller diamonds of 0.5 carats to 3 carats declined by 0.2 percent to 1.3 percent, larger stones showed much steeper falls as can be seen in this graph.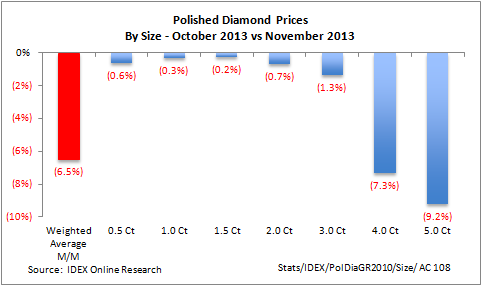 The decline in larger sizes is possibly explained by the fact that with the holiday season kicking in more strongly, buyers are looking for diamonds that can fit the majority of consumers' pocketbooks, and that inevitably means smaller diamonds. The number of end-buyers looking for larger diamonds set in jewelry costing several tens of thousands of dollars is clearly lower during the Christmas sales period.
Taking a longer term view, however, and looking at the year-on-year price changes, a different picture emerges. There was a rise in prices on the year in November for the first time in 2013.
Can manufacturers expect to see prices remain largely stable in the last month of 2013? The answer would appear to be that it is indeed likely to be the case. Prices, overall, have seen a degree of volatility, but have for the most part traded within a relatively narrow set of parameters.
Although De Beers reduced prices overall by some 3-5 percent at its last Sight for 2013 – and its first in Botswana – in November, those reductions were generally agreed by Sightholders to be relatively insignificant. A change in assortments enabled De Beers to present the change as a price decline, but the mining giant's clients remained largely unhappy with the prices albeit being cognizant of the fact that their complaints are falling on deaf ears.
Outlook
The graphs clearly show a market struggling to find an obvious direction Prices have tried to head higher but they are constrained by a range of factors.
In the United States, jewelry retailers and others have enjoyed a strong year. Rising stock markets and housing prices are bringing a degree of confidence back to consumers.
However, early indications that sales over the Thanksgiving weekend were about 3 percent lower than the figure for 2012 will come as a disappointment to retailers. They may, in any case, have only themselves to blame as they reduced prices as early as late November as they sought out consumers who may have sensed panic in the air and decided to hold off on purchase in the belief that reductions will increase as the season progresses.
Nonetheless, the National Retail federation remains hopeful for a 3.9-percent rise in sales during the holiday season. High-end jeweler Tiffany & Co provided reasonably strong guidance looking forward. Meanwhile, Wal-Mart, whose sales provide a strong indication of the spending patterns of lower and middle income America, was not so upbeat, commenting that uncertainty persists, particularly where employment is concerned.
The Indian diamond trade continues to be held back by a mixture of a weak currency against the U.S. dollar, meaning rough diamonds are even more expensive. A double-digit fall in the worth of the rupee is creating huge problems and is not likely to be resolved until after the country's general elections.
Meanwhile, as far as the Chinese market is concerned, there is a growing school of belief – or at least hope – that the slowdown of recent months has reached a plateau. As a result, the market will be looking to the Chinese New Year that begins on January 31 for a resumption of higher sales.
The full analysis of the polished diamond prices is available to IDEX Online Research subscribers and IDEX Online members here. Click here for more information on how to subscribe or become a member.