IDEX India Office Celebrating Tenth Anniversary
March 03, 14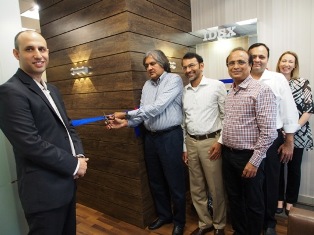 BDB President Anoop Mehta offically opens the
new IDEX Service Center last July, watched by,
among others, Milan Parikh, Arun Shah and Yaron
Barzilay.

(IDEX Online News)
–
IDEX is celebrating a special anniversary this year – 10 years since the establishment of the company's office in Mumbai, India.
IDEX India started out in what was little more than a basement in the Aman Chambers of the Opera House diamond exchange complex.
"We started with a team of customers service support to offer worldwide support to IDEX customers, mostly converting faxes into online stock," explained Yaron Barzilay, manager of the Mumbai office.
"We focus completely on India, offering the industry's most trusted diamond buying service, diamond authentication and information.
"And recently we moved to brand new offices in the Bharat Diamond Bourse with a Service Center that provides our clients and the Indian diamond business with quick and easy access to the many services we offer.
"I would like to take this opportunity, on behalf of our staff in the Mumbai office, to thank all our Indian clients. We wish them successful business and prosperity and many more years of working together."
The India office runs the IDEX Online Diamond Buying Service. This allows buyers to go online, choose and purchase the stones they want to buy from IDEX Online's worldwide database of more than 450,000 polished diamonds. IDEX Online then deals with the rest of the process, from collecting the diamonds, authenticating the stones, consolidating them into a single package and delivering them to the buyer.
The IDEX Online office in India is also officially authorized to export diamonds. By consolidating them into a single package, the buyer can order stones from a range of suppliers in a single geographical location and pay only one single shipping charge rather than multiple shipping fees.
The Service Center offers the Guaranteed Diamond Transactions (GDT), the platform that allows wholesalers and jewelers to buy and sell polished diamonds for cash with immediate delivery which allows companies to trade diamonds with partners they may not know in full confidence and security.
The India office of IDEX also launched the Diamond Retail Benchmark in rupees in 2011 for Indian retail buyers of diamonds to ensure greater transparency in the pricing of cut diamonds.