US & International Diamond Week to Offer $1 Billion Worth of Goods
March 25, 14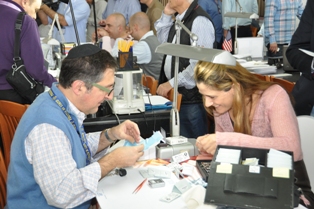 Traders at the First US & International Trading
Week
(IDEX Online News) – More than $1 billion worth of goods is estimated to be on offer at the upcoming US & International Diamond Week at the Israel Diamond Exchange (IDE). Over 400 diamond suppliers are set to take part in the sales festival, which takes place from April 6-10.
"Currently, diamond buyers from 20 different countries are registered, among others from Angola, Australia, Austria, Belgium, Brazil, Hong Kong, India, Italy, Japan, Russia, South Africa, Spain, Taiwan, Thailand, the United Kingdom and the US," IDE said IDE President Shmuel Schnitzer.
"The Spring edition of the US & International Diamond Week offers diamond buyers a great opportunity to pick and choose the polished diamonds they need to stock their diamond inventories. Nowhere else will they find as varied and as wide a choice of diamonds, from low priced, commercial goods to the top rated, large single stones," he added.
Organizers said the format of the event enables the 400+ Israeli diamond traders to keep their costs – and therefore their prices – as low as possible.
"We are using our – slightly modified – diamond trading hall for the event," said Moti Fluk, head of the event's organizing committee. "Apart from offering the most secure environment, it's also very easy to negotiate. We therefore guarantee visiting buyers very smooth and fast access to many hundreds of diamond sellers."
Click here to see the IDE'S official invitation to the US & International Diamond Week.