Recycled Diamonds Revisited - the Economic Rollercoaster Ride
March 26, 14
Last month, I wrote in a Memo column that the economic forces that fueled the swell in recycled diamonds in the U.S. have abated, and that after a period of growth, the supply of diamonds from consumers is declining (Recycled Diamonds, Is the Party Over? February 27, 2014). The response to the column was immediate, with many asking for more figures to explain the assertion.
Some background: Although the diamond industry is based on consumers buying diamonds, there was always a certain flow in the opposite direction – consumers selling their diamonds back. Some of this is 'upgrading,' replacing a diamond in a jewelry item with a bigger or nicer diamond. These diamonds are known as a trade-in. Another source of recycled diamonds is divorced women turning in or selling their engagement rings. The third major source of recycled diamonds is distressed consumers, folks that have fallen on hard economic times and sold their diamond rings to retailers and pawnshops.
The big swell in recycled diamonds in the US followed the 2008 financial crash, which started as a real estate crisis. As the economy weakened, a large number of defaults took place with high-risk mortgages. This led to a drop in housing prices that dragged down financial firms that sold toxic investments in these mortgages.
House ownership is an important component of the American economy. Owning a house and meeting mortgage payments helps build credit history and equity. Americans take loans against their homes and invest, pay their children's tuition and spend on consumer goods. Homeownership is also viewed as a hedge against inflation, not to mention the tax savings.
When the 2008 crisis hit, some folks defaulted on their mortgages, but many others did everything in their power to hold on to their houses – including selling gold and diamond-set jewelry. This is the source of goods and the reason behind the tidal increase in recycled diamonds.
Following the crisis, the rate of diamond upgrades in stores declined, and even divorce rates fell. From 3.7 divorces per 1,000 Americans in 2007, the number of divorces and annulments declined to 3.6 per 1,000 in 2008, further dipping to a 40-year low of 3.5 per thousand in 2009, according to CDC/NCHS National Vital Statistics System. Only in 2011 did the rate of divorces start to increase again, rising to 3.6.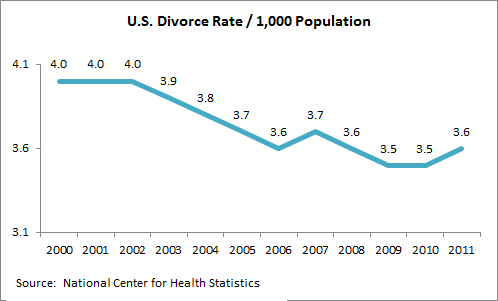 The crisis led to an increase in unemployment, which increased from an average of 4.6 percent in 2007 (7.1 million unemployed) to 10 percent in October 2009 (14.9 million, and averaging 9.6 percent throughout 2010, according to U.S. Bureau of Labor Statistics data.
Clearly, the rise in recycled diamond prevalence during the recession and in the recovery period is not based on upgrades or divorces, but rather on economic hardship.
This is an All-American response. Sell all you can to save what you can. When Americans were hit in 2008 and 2009, they did just that. They sold diamonds, gold and anything else they could to preserve some of their assets.
It's Getting Better, So Expect a Decline
Just as the economic downturn created the swell of diamond sales to pawnshops, an economic improvement takes away the motivation to sell belongings – diamond jewelry included. It is therefore worthwhile examining how unemployment, credit defaults and housing are doing these days to see if the incentives to avoid defaults have been taken away.
The drop in home prices in the second half of 2006 was a precursor to the subprime crisis of 2008. After a period of muddled housing prices, in 2013, they experienced a revival and by November 2013, US home prices were back to their mid-2004 levels.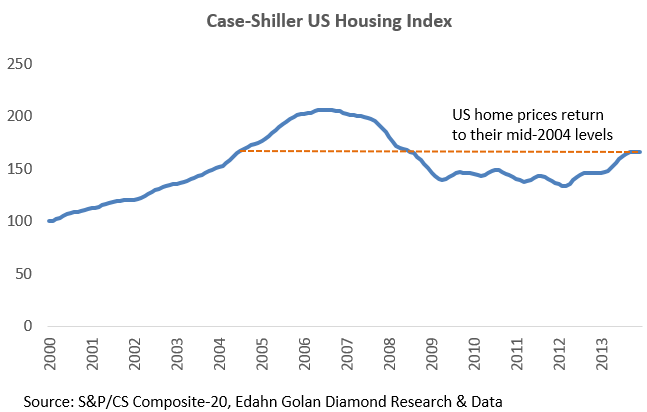 The recent rise in divorce rates is also closely tied to an improving economy, which is reflected in the rise in US home prices: divorces generate a need for another house. The economy, divorce rates and housing prices are tied together. Housing starts leaped 67 percent in 2013 compared with 2009, according to Commerce Department data.
Jessamyn Schaller, an economics professor at the University of Arizona, found a correlation between unemployment, divorce rates and housing prices in the US: a one-percentage point increase in the jobless rate is associated with a 1.5 percent decrease in the marriage rate and 1.7 percent drop in the divorce rate.
By March 2013, first-time delinquent home loans fell to 0.84 percent of the 50.2 million mortgages and the current historic low interest rates are providing a strong motivation to buy a house. Interest rates are at historic lows, below 4% for a 30-year, fixed-rate mortgage and below 3.25% for a 15-year term, according to financial advisor Laura Adams.
In December 2013, the unemployment rate cooled to below 7 percent for the first time since November 2009.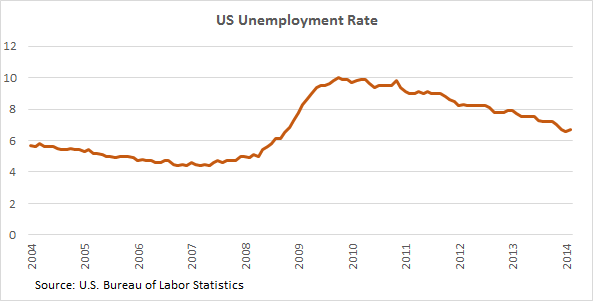 With Americans willing and able to straighten their backs with more jobs, low interest rates and a desire to restore their financial situation, more are buying houses as well as getting divorced. If this is the case, then why sell your diamond jewelry? Obviously, the financial need is diminishing.
This leaves us with the two other sources of recycled diamonds: upgrades and divorces. With an improving economy, people are more willing to consider replacing diamonds they own with better diamonds. An increase in the divorce rate inevitably leads to a growing number of no-longer-a-sweet-reminder engagement ring sales. However, do they together fully replace the diminishing supply of distress sells, or will we only see a return to pre-crisis level supply?
The answer is closer to the latter, but not completely. Now that people know that they can sell their diamonds (and with companies now specializing in recycled diamonds), it's becoming more common to do so. The result is that, indeed, the party is over [Recycled Diamonds, Is the Party Over?], and as a result, the average size and value of recycled goods are expected to rise, but the overall volume and value, are turning south.
Follow Edahn on Twitter
Get in touch on LinkedIn
Connect on Facebook
Or visit EdahnGolan.com