Chow Tai Fook Launches Argyle Diamond 'Sunshine' Collection
October 02, 14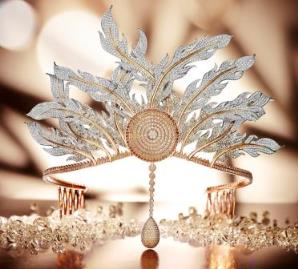 The Nature's Glow Tiara
(IDEX Online News) – Chinese retail jeweler Chow Tai Fook is to release its latest collection of jewelry as part of its partnership with Rio Tinto Diamonds. The "Chow Tai Fook Sunshine" is being promoted under the banner of "Light up your life with Australian Diamonds."
Each piece of jewelry in the new collection is accompanied by a certificate of authenticity assuring customers of the origin of their diamonds and their journey from one of the most remote parts of Australia.
The collection, which will be showcased across China, will be headlined by a specially made white and champagne diamond-encrusted tiara. Titled "Nature's Glow," the tiara is a tribute to the strategic partnership between Rio Tinto and the jeweler, which is celebrating its 85th anniversary.
The partnership between Rio Tinto and Chow Tai Fook, which was inaugurated at the Shanghai World Expo in 2010, has created five Chow Tai Fook fashion jewelry collections featuring Argyle diamonds. The jeweler now retails Argyle diamonds at the majority of its 2,000 stores in Greater China.
Acknowledging the importance of the Chinese market, Rio Tinto Diamonds managing director Jean-Marc Lieberherr said the partnership has enabled opportunities to grow the Chinese market for diamonds in ways the company could "only dream of less than five years ago."