Surat Jewelry Park gets SNZ Status
January 07, 15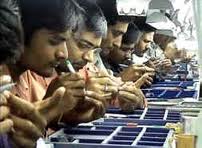 Surat Diamond Workers

(IDEX Online News) – Surat's jewelry park, run by Gujarat Hira Bourse (GHB) at Ichhapore, has received Special Notified Zone (SNZ) status for trading rough diamonds. The announcement was made by Gujarat Chief Minister Anandiben Patel at Sparkle International-2015, a gem and jewelry event, the Times of India (TOI) reported.

The minister said the move would boost the image of Surat as the world's biggest manufacturing and rough diamond trading hub.

The TOI cited sourced that explained that GHB will be equipped with custom clearance facility enabling manufacturers to directly source their raw material from the various mining companies that are expected open offices in Surat.

"Mumbai and Surat are the nerve centers of global diamond industry. We are happy that the government has accepted our proposal of setting up SNZ at GHB's jewelry park at Ichhapore. Along with Mumbai, the diamond miners from around the world will set up their trading offices in Surat as well," said Gem and Jewelry Export Promotion council chairman Vipul Shah.

The industry is awaiting the announcement of the new custom policy framework by the Central Government.

In another boost to the industry, Patel also announced the establishment of training centers for creating a pool of skilled diamond artisans, which will be set up in coordination with the Indian Diamond Institutes (IDI) at Bhavnagar, Ahmedabad and Rajkot.

"We want to create a pool of skilled diamond artisans to increase production in the diamond sub-centers like Bhavnagar, Ahmedabad and Rajkot. At present, these diamond centers are facing shortage of workers due to which the diamond production is going down," the TOI reported Patel as saying.