Polished Diamond Prices Drift in February
March 03, 15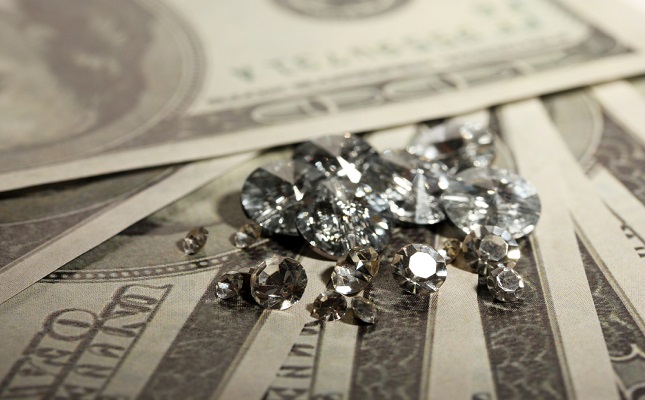 Global polished diamond prices drifted in February 2015. Average prices during the month were just under 1 percent lower than average prices in January 2015, but were nearly 8 percent lower than the same month a year ago, according to the IDEX Polished Diamond Price Index, recognized by the industry as the most reliable indicator of global polished diamond prices.
The graph below summarizes polished diamond prices for the past four years. After showing a period of stability during 2012-2014, polished diamond prices have fallen in recent months.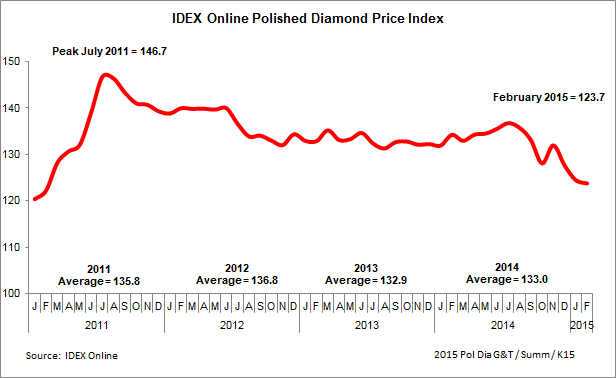 Weak jewelry demand during the all-important 2014 Holiday Selling Season in the US market, the largest polished diamond consuming market in the world, is mostly to blame for weak diamond prices, though demand in other major diamond-consuming markets remains tepid. Until shoppers show that they are willing to spend more money on jewelry, diamond prices are expected to continue to drift.
Lackluster Diamond Demand Caps Diamond Prices
After trending steady since 2012, polished diamond prices tumbled going into the November-December holiday selling season, as the graph below illustrates.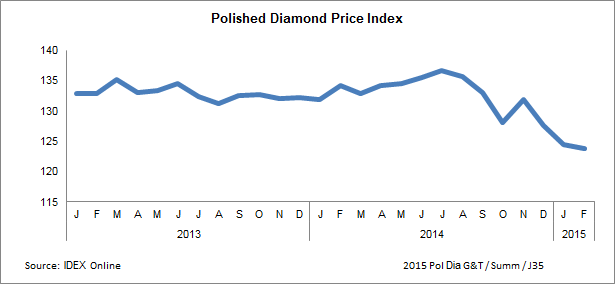 On a month-to-month basis – comparing February 2015 to January 2015, polished diamond prices fell by 0.6 percent, as the graph below illustrates. While this was a more modest decline than in some recent months, it shows that there is little, if any, support for polished diamond prices to move higher
Click here see the complete IDEX Online Research Article.