US Jewelry Sales Decline Again in January
March 18, 15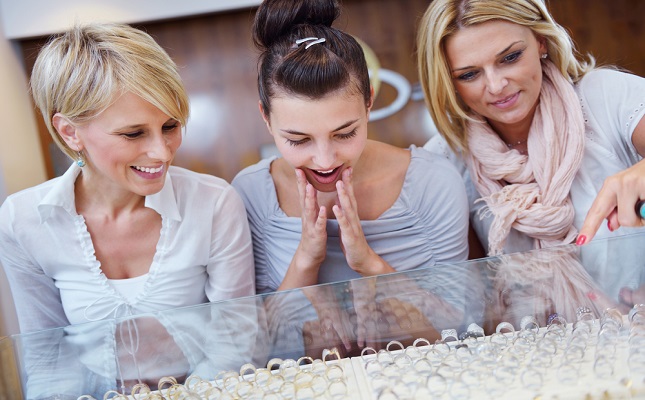 (IDEX Online News) – For the fourth consecutive month, demand for fine jewelry and fine watches in the US market was very weak. Jewelry and watch sales in January 2015 were an estimated $4.6 billion, down 1.9 percent from last year, according to the U.S. Commerce Department. The graph below illustrates monthly sales trends for fine jewelry and fine watches in the US market.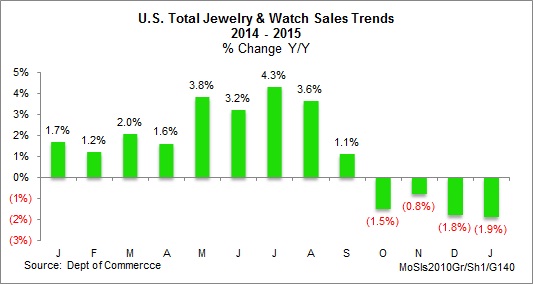 By category in January, fine jewelry sales decreased 1.6 percent from last year, while fine watch sales fell a precipitous 4.8 percent from the same month a year ago.
The US jewelry industry lost market share in January compared to other retail categories. Total retail sales (all merchandise categories) rose by 3.3 percent, while total retail sales excluding food and autos were basically flat. Harsh winter weather and brutally cold temperatures, especially in the populous Eastern half of the country, took their toll on jewelry demand as consumers stayed off the slippery roads and kept warm at home.
Specialty Jewelers' Sales: Jarring January
Specialty jewelers' sales were $2 billion, down 4.1 percent from the same month a year ago, as the graph below illustrates. Clearly, specialty jewelers lost market share to multi-line merchants who also sell jewelry.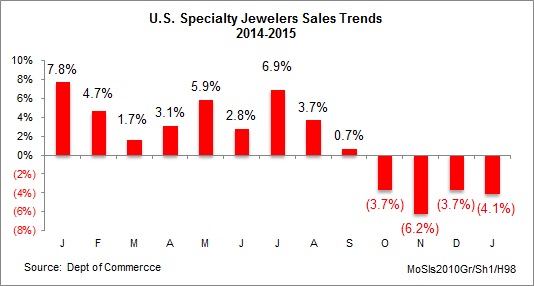 Revised 2014 Annual Jewelry Sales Unchanged: A Weak Year
A second round of revisions to 2014 annual jewelry sales by the government showed little change from figures previously reported. Total jewelry sales in the US market for the full year 2014 edged ahead by a very modest 1.5 percent, when compared to the prior year, to $78.1 billion.
Specialty jewelers' sales in 2014 were ahead by only 1.1 percent to $33.6 billion; this was almost no change from preliminary data. Specialty jewelers continued to lose market share to multi-line merchants in 2014; specialty jewelers now have just a 43 percent share of the total US jewelry market, down from 73 percent in the early 1970s.
Government data for annual 2014 jewelry sales will continue to be revised through mid-2015.
Revisions to Recent Monthly Sales Are Notable
Revised data for December 2014 showed that total US jewelry sales dropped by 1.8 percent; preliminary figures had shown a smaller decline: down 1.6 percent. Likewise, holiday 2014 sales for the November-December period were down 1.6 percent, based on the latest revision to the government data. Previously, sales for the two-month period were reported to be down 1.4 percent, based on earlier preliminary data.
Revised holiday sales – November and December 2014 – for specialty jewelers were down 4.5 percent, a little less than the decline of 4.7 percent reported last month, based on preliminary data.
February Outlook: Weak Trends Continue
If January was bad, it appears that February consumer demand for jewelry will likely be worse. More bad weather hurt retail store traffic. Jewelers report that Valentine's sales were "OK," but business "nearly dried up" in the second half of February.