Signet Q4 Sales up 45.5%
March 26, 15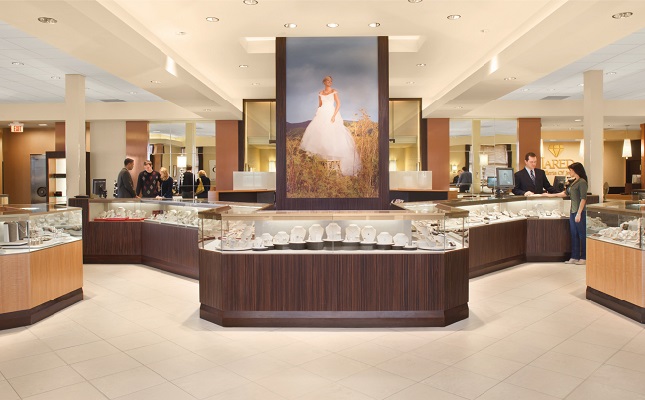 (IDEX Online News) – Signet Jewelers Limited today (Thursday) announced a 45.5-percent increase in total sales in the fourth quarter of Fiscal 2015. Sales increased by $712.4 million to $2.276 billion from $1.56 billion in the fourth quarter Fiscal 2014.
The company said the increase was primarily driven by the addition of the Zale division, which added $636.7 million of sales to fourth quarter Fiscal 2015.
Same-store sales increased 4.2 percent compared to an increase of 4.3 percent in the fourth quarter Fiscal 2014.
Ecommerce sales were also up substantially, to $149.6 million compared to $79 million in the fourth quarter Fiscal 2014, an increase of $70.6 million or 89.4 percent, also due principally to the addition of Zale, which added $54.8 million in eCommerce sales.
The company said its Sterling Jewelers division sales increases were driven primarily by bridal and higher price point fashion diamond collections. While the average transaction price in Sterling increased by 4.5 percent, the number of transactions decreased by 1.2 percent due to sales mix changes.
Sales across the Zale were driven by bridal, branded diamond collections and new marketing strategies. Total sales were, however, impacted by a deferred revenue adjustment of $12.8 million due to purchase accounting.
In the UK, sales increases were broad-based driven principally by strategic initiatives to grow diamond sales as well as strong sales of fashion watches. The number of transactions and average transaction price for the division increased by 1.6 percent and 7 percent, respectively, due to broadly strong performance across the merchandise portfolio of watches, branded fashion, and branded bridal.
"Confidence in our business model and the strength of our free cash flow enables us to commit to a comprehensive capital allocation strategy that provides for sustained revenue growth together with meaningful returns to our shareholders," said CFO Michele Santana.
"We will continue to target investment grade ratings and up To a 3.5-times adjusted leverage ratio. In addition, as part of our capital allocation strategy for Fiscal Year 2016, we plan to repurchase $100 million to $150 million of our stock and increase our dividend."