Richline Celebrates 50th Anniversary of Berkshire Hathaway with Buffet Smartwatch
April 30, 15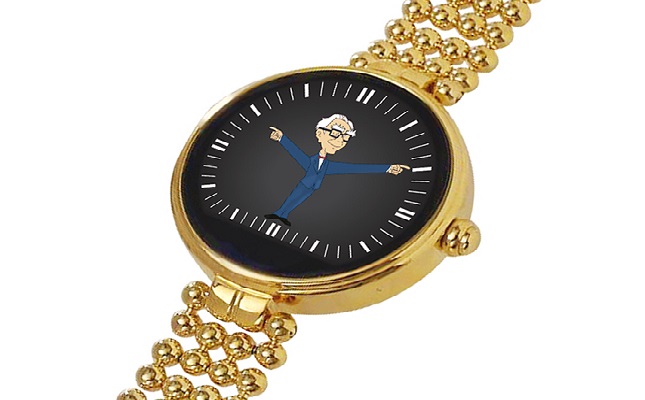 (IDEX Online News) – To celebrate 50 years of its parent company, Berkshire Hathaway, Richline Group has created collection of exclusive commemorative jewelry. The items include a commemorative coin from the LeachGarner Division; a set of Berkshire Hathaway-themed bangles from Chrysalis and a smartwatch from distribution partner, Omate, which includes a Warren Buffett watch face.
"Smart jewelry, including watches, is a growing priority here at Richline," said Richline CEO Dennis Ulrich. "We see this emerging category as one of the keys to our future. With this in mind, we partnered with our friends at Omate to create a cutting edge watch with a unique twist. Not only is it a sign of the bright future we see for both Richline Group and Berkshire Hathaway, but with its exclusive Warren Buffett watch face, it's quite a bit of fun."
"Over the past few years, creating commemorative coins featuring Warren and Charlie has become an annual tradition for us," said Richline CMO Mark Hanna. "In honor of 50 years of Berkshire Hathaway, we've decided instead to create a single design – available in a choice of fine silver or 24-karat gold – honoring this extraordinary milestone."
The three collectible, commemorative products will only be available at the 2015 Berkshire Hathaway Annual Shareholders Meeting on May 1-2 in Omaha, Nebraska.
Richline Group, Inc. is a wholly-owned subsidiary of Berkshire Hathaway Inc.