Pressure on Rough Continues at De Beers' Sight
May 11, 15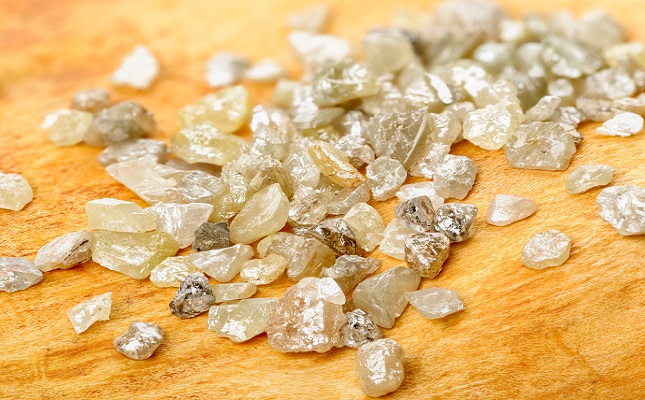 (IDEX Online News) – The pressure on rough prices to drop continues. As a result, De Beers decreased its prices between 3-5 percent on a wide range of boxes at its latest Sight. Some traders complained, however, that along with prices, the company also downgraded its assortment, making the real price reduction smaller than the miner claimed and causing some to feel even more dissatisfied.
In general, the overall mood in the market continues to be depressed. People are increasingly concerned about the future of the manufacturing sector, as profit is marginal, and in some cases even crossing over into negative figures.
Those who traded on the secondary market did so at very low premiums. In many cases, the sums they managed to command did not even cover the real price of the goods (list + VAS + broker + interest), and they certainly didn't take expenses into account.
As far as the Russian goods are concerned, there are also indications that Alrosa is reducing the prices of its better quality goods.
Bluedax Market Report: Sight Four, May 2015
| | | | |
| --- | --- | --- | --- |
| BOX | LIST | SOLD | DAYS |
| Fine 5-14.8ct | 5093 | 3% | 90 |
| Col'd Fine 5-14 ct. | 3379.53 | List | Cash |
| Commercial 5-14.8 | 3280 | 4% | 60 |
| Col'd Commercial 2.5-14.8 | 1698.3 | 3% | 60 |
| Spotted Z 5-10 | 1710.2 | 3% | 90 |
| Col'd Spotted 2.5-10 ct | 861.8 | 2% | 90 |
| Select mb 5-14.8 | 2223.4 | 1% | 90 |
| Misc 2.5-10 Ex 3 Col | 2664.4 | 3% | 60 |
| Commons 2.5-10 ct | 775.1 | 4% | 60 |
| Preparers Low 2-10 ct | 238.5 | 2% | 90 |
| Prep Cubes -10ct | 462.4 | 2% | 90 |
| Clivage H +10.8 ct | 1825 | 4% | 90 |
| Col'd Cliv/ mb+3/10 ct | 226.8 | 5% | 120 |
| Brn Rej 10ct / +5 | 23 | 4% | 120 |
| Fine 2.5/4 ct | 2331.71 | 4% | 90 |
| Commercial 2.5-4 ct | 1751 | 3% | 60 |
| Crystals 2.5-4 ct | 2429.7 | 2% | 90 |
| Select MB 2.5-4 ct | 1300.51 | 4% | 90 |
| Spotted Z 2.5-4 ct | 1028.77 | 3.75% | 90 |
| Fine Z 4-8 gr | 1038.07 | 3% | 90 |
| Fine Z 8 gr | 1645 | | 90 |
| Fine Z 5-6 gr | 1010 | | 90 |
| Fine z 4 gr | 785 | | 90 |
| Crystals 4-8 gr | 1209 | 1% | Cash |
| Crystals 8 gr | 1600 | | Cash |
| Crystals 5-6 gr | 1115 | | Cash |
| Crystals 4 gr | 830 | | Cash |
| Spotted Z 4-8 gr | 835.09 | 1.50% | 36 |
| Spotted Z 8 gr | 1167 | | 36 |
| Spotted Z 5-6 gr | 870 | | 36 |
| Spotted Z 4 | 590 | | 36 |
| Chips 4-8 gr | 847.86 | 3% | 45 |
| Chips 8 gr | 1250 | | 45 |
| Chips 5-6 gr | 875 | | 45 |
| Chips 4 gr | 590 | | 45 |
| Cubes 4-8 gr | 765.73 | 1% | 90 |
| Cubes 8 gr | 1050 | | 90 |
| Cubes 5-6 gr | 750 | | 90 |
| Cubes 4 gr | 525 | | 90 |
| 1-3 Col Mxd Z +11-8 gr (non piq) | 424.3 | 5% | 120 |
| 1-3 COL Mxd Z 8 gr (non piq) | 720 | | 120 |
| 1-3 COL Mxd Z 5-6 gr (non piq) | 515 | | 120 |
| 1-3 COL Mxd Z 4 gr (non piq) | 350 | | 120 |
| 1-3 COL Mxd Z 3 gr (non piq) | 265 | | 120 |
| Col'd Z 4-8 gr | 677.6 | 1% | Cash |
| Col'd Z 8 gr | 975 | | Cash |
| Col'd Z 5-6 gr | 620 | | Cash |
| Co'ld 4d Z 4 gr | 421 | | Cash |
| Mb 4-8 gr (maccles) | 648 | 1% | 60 |
| Mb 8 gr (maccles) | 873 | | 60 |
| Mb 5-6 gr (maccles) | 615 | | 60 |
| Mb 4 gr (maccles) | 420 | | 60 |
| 2/3 Black mb 4-8 gr | 422.4 | 4% | 90 |
| 2/3 Black mb 8 gr | 555 | | 90 |
| 2/3 Black mb 5-6 gr | 450 | | 90 |
| 2/3 Blacks mb 4 gr | 350 | | 90 |
| 3 Col Chips 4-8 gr | 601.4 | 3% | 60 |
| 3 Col Chips 8 gr | 780 | | 60 |
| 3 Col Chips 5/6 gr | 628 | | 60 |
| 3 Col Chips 4 gr | 425 | | 60 |
| Z 3 gr +7 (mele) | 314.94 | 0.5% | Cash |
| Z 3 gr (mele) | 500 | | Cash |
| Z +11 (mele) | 345 | | Cash |
| Z +9 (mele) | 240 | | Cash |
| Z +7 (mele) | 200 | | Cash |
| Z Long -3 gr+7 | 293.4 | 6% | 60 |
| Preparers low 3-6 gr | 73.14 | 4% | 90 |
| Preparers low lot 1 mb | 73 | | 90 |
| Preparers low lot 1 cubes | 79.5 | | 90 |
| Z cliv -11 | 120.6 | 6.50% | 120 |
| (3 gr) | 190 | | 120 |
| (-11+9) | 110 | | 120 |
| (-9+7) | 107 | | 120 |
| (-7+5) | 95 | | 120 |
| (-5+3) | 65 | | 120 |
| Mb high -3 gr +7 | 205.5 | List | Cash |
| Mb high 3 gr | 370 | | Cash |
| Mb high 2 gr | 240 | | Cash |
| Mb high +9 | 150 | | Cash |
| Mb high +7 | 120 | | Cash |
| Mb high 7/3 | 105.98 | List | 90 |
| Mb (-7+3) low | 61.84 | 3% | 120 |
| (7/5) | 72.5 | | 120 |
| (5/3) | 57.5 | | 120 |
| cold cliv/mb -3 gr | 67.3 | 4% | 120 |
| Ind longs 3 grs/+5 | 179.7 | 5% | 120 |
| Mb cliv -3 gr +7 | 95.47 | 3% | 90 |
| Lot 1 | 165 | | 90 |
| Lot 2 | 112 | | 90 |
| Lot 3 | 80 | | 90 |
| Lot 4 | 75 | | 90 |
| Cubes -3 gr +7 | 171.33 | List | Cash |
| Cubes 3 gr | 280 | | Cash |
| Cubes 2 gr | 200 | | Cash |
| Cubes -11+9 | 120 | | Cash |
| Cubes -9+7 | 120 | | Cash |
| Mxd crystals 13/5 | 321.1 | 4% | 60 |
| Mxd crystals 3 gr | 575 | | 60 |
| Mxd crystals 2 gr | 365 | | 60 |
| Mxd crystals 11/9 | 210 | | 60 |
| Mxd crystals 9/7 | 190 | | 60 |
| Mxd crystals 7/5 | 160 | | 60 |
| Indian flats 3 gr/+5 | 132 | 4% | 90 |
| Indian flats 3 gr | 300 | | |
| Indian flats +11 | 160 | | |
| Indian flats 11/9 | 110 | | |
| Indian flats 9/7 | 80 | | |
| Indian flats 7/5 | 80 | | |
| Brn Cliv/MB -3 gr | 46.8 | 1% | 120 |
| 1st Col Rejn (H-L) +11/+7 - abc clivage | 52.28 | 4% | 90 |
| 1st Col Rejn (H-L) +7/+3 - abc cliv | 52.33 | 4% | 90 |
| Cold cliv/mb -3 gr | 67.3 | 4% | 120 |
| Mix rejection | 16.7 | 8% | 120 |