21-Carat Kashmir Sapphire Ring Sells for $4.2 Million at Christie's
June 21, 15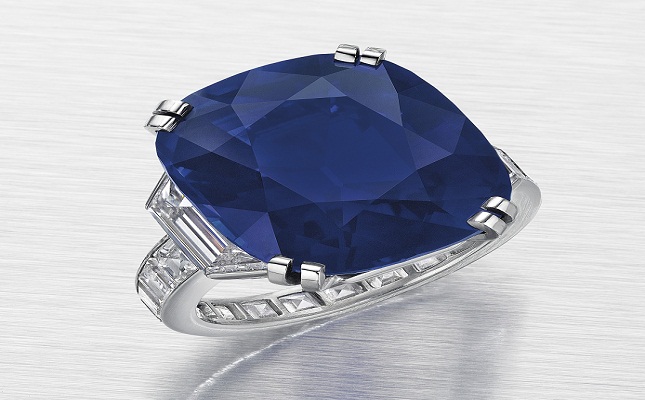 (IDEX Online News) – Rare colored gems continued to attract high auction prices last week, highlighted by the sale of a 21.71-carat Kashmir sapphire at Christie's New York Important Jewels sale.
Dubbed "The Kelly Sapphire," the dark-blue natural gem, flanked by two trapeze-shaped diamonds, sold for $4.2 million ($193,000 per carat); more than double the pre-sale estimate of between $1.5 – 2 million.
"The magnificent collection of Margaret Adderley Kelly was 100% sold for a total of just under $10m [almost twice the pre-sale $5 million estimate] wrapping up a solid series of jewelry auctions at Christie's worldwide for Spring 2015. From Kashmir sapphires to Burmese rubies and fine quality diamonds, collectors and members of the trade showed great enthusiasm to acquire beautiful jewels and rare gemstones," said Rahul Kadakia, International Head of Christie's Jewelry
Two other important items were among the best-selling lots at the auction: An Art Deco necklace featuring a 16.24-carat D-color, internally flawless, VS2, pear-shaped diamond pendant, sold at just above its estimate for more than $2.2 million ($137,000 per carat), and a Burmese ruby and diamond cluster necklace sold for $845,000.
Christie's auction netted nearly $27.6 million, with 79 percent sold by lot and 94 percent sold by value. Particularly popular in the top lots (of the 230 in the auction) were colored gems and diamonds.
The sale of an 80.73-carat cushion-cut, K-color diamond that sold for $3.8 million, boosted the auction total.
Other top lots in the sale included:
A 9.97-carat, cushion-cut, Kashmir sapphire that sold for more than $1.1 million; a 28-carat cushion-cut Intense Fancy Yellow, VS2 diamond that sold for $857,000; a 27.83-carat rectangular-cut Ceylon sapphire that sold for $845,000 and a 25.82-carat cushion-cut, K-color, VS2 diamond that sold for $725,000.
This last auction, which
signaled
the end of the spring sales season at Christie's jewelry department, brought total sales to $69.5 million for the first half of 2015.