Gemological Science International to Offer Sarine Profile™ with Diamond Grading Reports
June 22, 15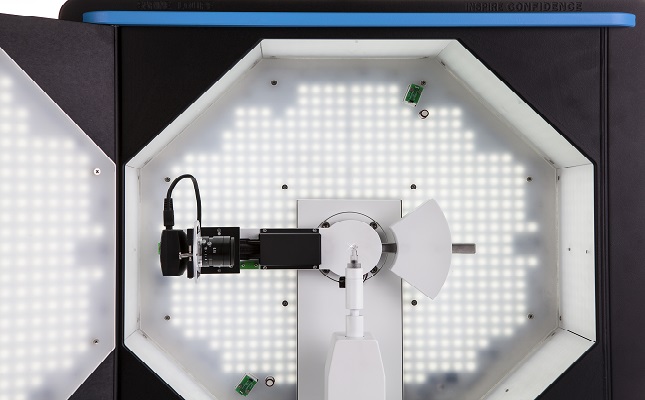 (Press Release) Kfar Saba, 21 June 2015 – Singapore Exchange Mainboard-listed Sarine Technologies Ltd ("Sarine") (U77:SI), a worldwide leader in the development, manufacture and sale of precision technology products for the evaluation, planning, processing, finishing and trade of diamonds and gems, is pleased to announce that Gemological Science International ("GSI"), one of the world's largest gem labs, has decided to incorporate into its polished diamond grading and education services the full Sarine Profile™, including deriving the stone's light performance grade based on Sarine Light™-measured data and providing the Sarine Loupe™ imaging and detailed Hearts and Arrows and 3-D Cut proportions graphic renditions. The joint collaboration between two of the industry's most technologically advanced companies will offer many new possibilities to their wholesale and retail customer base.
With offices in the U.S., India, Israel, Belgium and Botswana, GSI has expanded its global footprint in recent years to become one of the world's largest gem labs. GSI provides gemstone identification, grading and education services to many of the larger US retail chains, and combines state-of-the-art technology, being the only gem lab established in the 21st century, with deep professional expertise. As part of their mission to provide state-of-the-art services,
GSI has opted to adopt the Sarine Profile™ and utilise it for light performance measurement and analysis, imagery and Cut quality graphic rendition. This cooperation between Sarine and GSI underscores a mutual commitment to excellence, as was evidenced by the early adoption of Sarine's ground breaking DiaMension™ Axiom by GSI, and signals a new level of the relationship between the two companies.
Debbie Azar, GSI's co-founder and Executive Vice President, stated that, "Two fundamental pillars of our unique approach to our mission for the benefit of the industry are integrity and innovation. We have evaluated the Sarine Profile™ and have compared it to the other systems available today, and are convinced it is a unique solution, which meets our criteria for technological leadership perfectly. We further believe that Sarine's other current technologies, and those being developed, show potential for further cooperation between our two companies."
Uzi Levami, Chief Executive Officer of Sarine, stated, "We are delighted that GSI has chosen to adopt our Sarine Profile™. Sarine's industry leading technologies are designed to advance the diamond industry, whether in the manufacturing midstream or the polished trade downstream to ever greater levels of quality and efficiency. We are confident that the envisioned cooperation will benefit both new and existing customers - logistically and commercially."
Mr. Levami further noted that, "The business model agreed upon will add to Sarine's growing recurring revenue base, in line with our long-term goals."
About Gemological Science International (GSI):
Gemological Science International is an independent commercial Gemological laboratory. GSI provides reliable, fast and professional gemstone identification, grading and appraisal services to the global fine jewelry industry. By combining innovative thinking, new technologies and traditional values, such as integrity and shared research, GSI has created worldwide gem labs equipped to meet the evolving challenges of the jewelry industry. The foundation of our 21st century lab is built on four conceptual pillars - Integrity, Innovation, Professional Services and Shared Research & Education. For more information, please visit www.gemscience.net
About Sarine Technologies:
Established in 1988, Sarine Technologies Ltd. is a worldwide leader in the development and manufacturing of advanced evaluation, planning, processing and finishing systems for diamond and gemstone production. Sarine products include diamond Cut, Color and light performance grading tools, the Galaxy™ family of inclusion mapping systems, rough diamond planning optimisation systems, laser cutting and shaping systems, laser-marking and inscription machines and polished diamond visualisation systems. Sarine systems have become essential gemology tools in every properly equipped gem lab, diamond appraisal business and manufacturing plant, and are today considered essential items by both diamond dealers and retailers. For more information about Sarine and its products and services, visit http://www.sarine.com.
Disclaimer: IDEX Online accepts no responsibility for the accuracy or completeness of any information from press releases published on this site as they are submitted directly by third parties.