IDEX Online Research: Same-Gender Unions A Positive for US Jewelry Industry, But Not A 'Big Deal'
July 28, 15
The US jewelry industry has been jubilant since the Supreme Court of the United States (SCOTUS) legalized same-gender unions recently. After all, many jewelry insiders concluded, this will be a big boost for sales of jewelry – particularly wedding related merchandise – in America.
There's no question that this will be positive for America's jewelry industry. But how much of a positive will it be? The SCOTUS decision is being called a "big deal" by jewelers, but the numbers don't support it.
IDEX Online Research has completed exhaustive examination of the same-gender wedding market and its potential for the US jewelry industry. At most, it could boost industry sales by perhaps 1 percent – just under $1 billion – between now and year-end 2016 as same-gender households legalize their living arrangement. After that, jewelry for same-gender unions will have only a minimal impact on industry sales, based on our analysis.
Research Methodology: Jewelry for Same-Gender Unions
IDEX Online Research utilizes only solid, empirical data and estimates that are credible and defensible. Speculation has no place in our research. Here's how we conducted our research into the market potential for wedding jewelry aimed at same-gender unions:
· Reviewed Census Counts – The US Census Bureau is the main source for reliable numbers on same-gender households. We also reviewed other resources; most reported results similar to the Census Bureau. Notably, a few sources suggested that the government numbers might be low, but offered no credible proof.
· Interviewed Retail Jewelers – We asked jewelry retailers a series of questions including 1) how much same-gender jewelry are they selling? 2) What is the average retail price point and average ticket for same-gender wedding jewelry? 3) What items are same-gender couples buying – both male and female. We also asked about same-gender customer traffic since the SCOTUS decision.
· Reviewed Advertising for Same-Gender Jewelry – We looked at jewelers' advertising and promotions aimed at the market for same-gender wedding jewelry, including online merchants.
· Interviewed Same-Gender Couples – We talked with same-gender couples who are in a legal union as well as those who are considering a wedding. We also talked with same-gender couples who cohabitate, but have no plans to wed.
It is important to note that IDEX Online Research "does not have a dog in this fight." We do not engage in any commercial activity in the jewelry distribution chain, and we do not own any equities or have an investment in any publicly held jewelers or their suppliers.
The Numbers – A Modest Market Size
We've seen an incredibly wide range of sales estimates regarding the market size for same-gender wedding jewelry; most of it has been an exaggeration about the market potential. As it turns out, no one seems willing to explain their methodology for calculating the size of the market; mostly they are publishing speculative data based on wishful thinking, in our opinion. IDEX Online Research has the only "hard data" backed by empirical evidence.
We've been generous with our estimates. For example, we assumed that every same-gender household enumerated by the Census Bureau will form a legal union and buy jewelry over the next 18 months. That's unlikely. We assumed an average ticket for same-gender wedding jewelry that is well above any level reported by our sample of jewelers. That, too, is unlikely. In reality, the number of same-gender weddings will likely be much lower than our estimate, and the average ticket is likely to remain lower than our estimate for the near future.
Here's our analysis of the market potential for same-gender jewelry, based on numbers from the Census Bureau, the Department of Commerce, and IDEX Online Research.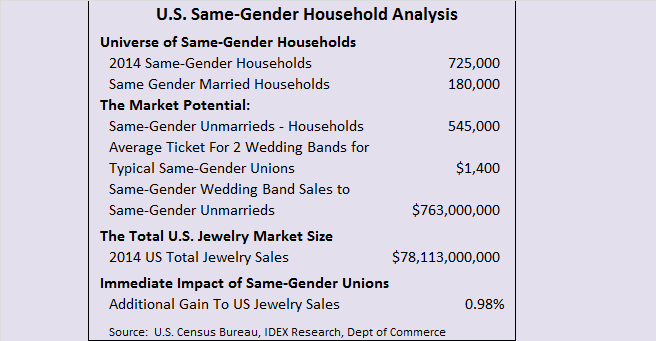 We note that there is some speculation about the number of same-gender households. Some sources cite numbers as large as one million, a level that is a third larger than the Census Bureau data. The Census Bureau suggests that the LGBT (lesbian, gay, bisexual, transgender) universe is 1.6 to 1.7 percent of the total US population, or nearly five million people. (We note, too, that a number of sources have published higher numbers.) A majority of the LGBT population does not live in a same-gender household; further, many have not "come out." The number of same-gender households – assuming two people per household – accounts for nearly one-third of the total LGBT population, a credible number based on Census Bureau data. Further, the number of same-gender households represents just 0.6 percent of the total of 126 million American households. Even if the number of same-gender households approaches one million, it would represent just 0.8 percent of all US households.
Same-Gender Wedding Jewelry
Americans in a same-gender household have different buying habits for wedding jewelry, when compared to the typical heterosexual US couple.
Our research has determined that couples in a same-gender household do not buy diamond engagement rings. They may purchase "promise" rings – simple rings, sometimes set with precious or semi-precious stones, with an average retail ticket well under $500 – typically closer to about $200-$300 each. These "promise" rings serve essentially the same purpose as traditional engagement jewelry for heterosexual couples.
For their wedding rings, our research shows that same-gender couples only buy wedding bands. Those bands are typically very simple and plain, though they may have a design engraved in them, and in a few cases, they may be set with melee diamonds. Mostly, same-gender couples prefer simple wedding jewelry, as illustrated by this ad from a Google search: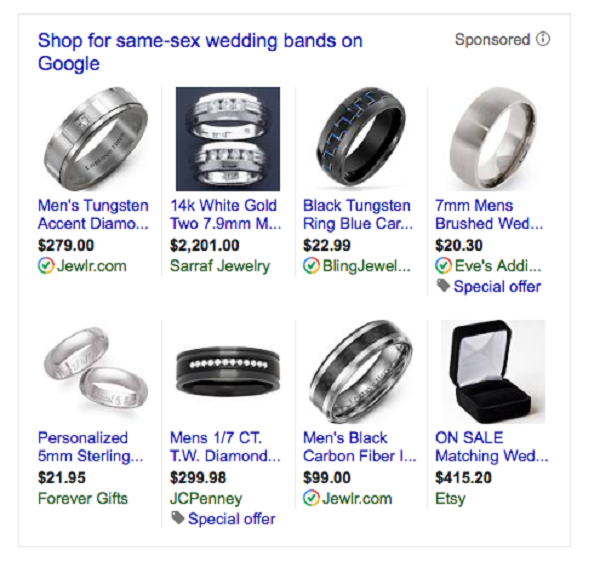 Online retailer Mytriorings has wedding bands clearly aimed at the upper end same-gender market. The most expensive set of wedding bands is about $1,700, while most are $1,000 or less, as the ad below illustrates. The prices shown are for the set of two rings.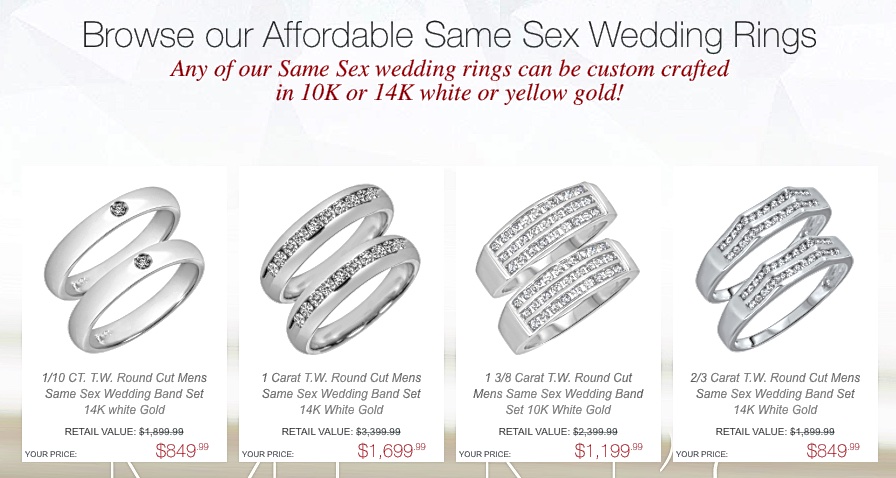 When we searched for same-sex wedding bands and jewelry at the major chains – Kay Jewelers, Zale's, Tiffany & Co. and others – we received a message that our search "Returned No Results."
As part of our research, we queried one chain jeweler about why the company was not focusing on the same-gender jewelry market. Executives said that they tend to leave that market to their LGBT sales people who have developed the same-gender jewelry market at the local level, store-by-store. Apparently, same-gender couples like a sales person who can identify personally with them.
We also asked jewelers if their sales of same-gender jewelry rose, after the SCOTUS decision. Only a couple of jewelers said they saw their sales rise "a little," but sales then settled back to normal levels in a few days. This is no surprise, since 37 states already had legalized same-gender unions prior to the SCOTUS decision. The SCOTUS decision affected only 13 states, and some same-gender couples in those states had wed in neighboring states that recognized same-gender unions.
Market for Other Wedding Related Jewelry - Minimal
Retail jewelers report that same-gender couples are not purchasing jewelry for their wedding attendants. People in same-gender unions said their wedding ceremonies did not include jewelry as gifts for their attendants, a few of whom had just two attendants, while most had none. They were surrounded by many friends, but not the formal attendants that characterize traditional wedding ceremonies. In short, same-gender couples have minimized the jewelry-as-a-gift category, as part of their wedding ceremony.
Forecast for 2017 & Beyond – Positive, but Not by Much
Between the 2000 and the 2010 US Census, the number of same-gender households grew by just under 9 percent in America, or less than 1 percent annually. The Census Bureau numbers indicate that there were 594,391 same-gender households in 2000, a number that had grown to 646,464 in 2010. New estimates for 2014 peg the number at around 725,000, an acceleration of the growth of same-gender households as it became legal in more states, and as more same-gender couples decided to "go public" with their living arrangements.
A generous estimate would suggest that the US market might add another 100,000 to 150,000 same-gender households through the end of the current decade, or up to 30,000 per year. This represents a doubling of the current rate of same-gender household formation. It is a defensible forecast since same-gender unions are now legal in all 50 states, and there appears to be waning negative sentiment about same-gender unions. Prior to the recent SCOTUS decision, same-gender unions were already legal in 37 states.
Again, assuming that the average ticket for same-gender wedding jewelry is $1,400, and assuming that all 30,000 newly formed same-gender households decide to form a legal union each year, we can assume that this would add $45 million to $50 million in annual jewelry sales, or six one-hundredths of a percent to annual jewelry sales in the US market. In short, it won't be a large enough market to track accurately.
As for the diamond industry, the analysis indicates that it will barely have a ripple effect. Calculating the diamond content of the few diamond wedding bands is a simple matter. Our analysis suggests that it could add a few million in annual sales to an industry that is an estimated $23 billion in annual sales, according to Tacy. This would be less than one-tenth of 1 percent of total polished diamonds at the supplier level. In short, it will be positive, but most diamantaires won't see any sales gain.
As it turns out, traditional jewelers probably won't notice any increase in sales. Even though specialty jewelers have just 39 percent of the market share of the total US fine jewelry market, we assumed that they would capture about half of the market (50 percent) for same-gender wedding bands. Since there are about 21,500 specialty jewelers in the US, each would gain same-gender wedding jewelry sales of about $17,750 in the first year or 18 months, assuming that they all benefit equally. Based on two different scenarios, specialty jewelers could see their sales rise by 1.0 to 1.3 percent near term, as the table below illustrates. Longer term, the impact would be much less.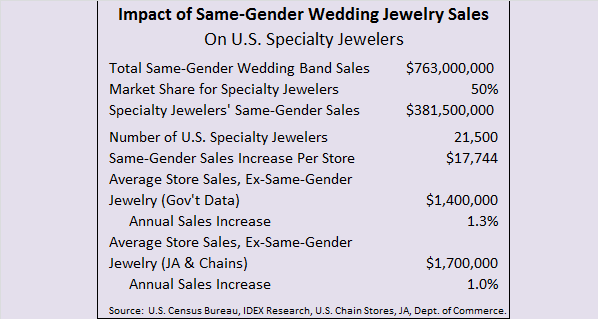 In reality, we believe that a few progressive jewelers will target the same-gender wedding market, and they will be the beneficiaries of significantly increased sales. In contrast, jewelers who continue to target the "traditional" wedding jewelry market will probably see little or no increase in their sales.
The Opportunity – Jewelers Could Develop the Market
There's no good reason why the average ticket for same-gender wedding jewelry should be limited to $1,400 or less. Enterprising jewelers may be able to upsell those couples to more expensive jewelry.
There appears to be one other notable hurdle that merchants will need to overcome. In our observations of same-gender households, simplicity seems to be a common theme in most of them. They tend to live more simply: smaller homes, less "stuff" in those homes, utilitarian automobiles and simple, healthy dietary habits. The concept of "simplicity" seems to extend to jewelry. We saw no ostentatious jewelry among our sample of same-gender households.
As a result of the "simple" needs of most same-gender households, jewelers will need to work extra hard to convince most of those couples that they need flashy, expensive jewelry.
Challenging the Critics of This Research
Estimates of the size of the LGBT market vary widely, and there has been some controversy over the Census Bureau data. We've seen numbers that suggest that the American LGBT population could be as much as 10 percent of the total US population. None of those sources has offered any proof that the data was collected in a scientific manner and properly analyzed. In the absence of better credible data, we will continue to use Census Bureau numbers.
Those who assert exaggerated numbers for the LGBT market, including the same-gender wedding market which a much smaller segment of the LGBT market, tend to fall into one of three categories: 1) those who engage in "wishful thinking" without regard to any scientific research 2) those who have goods to sell to the LGBT market and 3) those who are selling consulting services related to the LGBT market.
Because of the controversy over the numbers, we subjected our research to peer review. We received comments, and stand confident of our conclusions. Like all researchers, our data collection continues to evolve, and when we uncover new credible data, we may revise our conclusions and forecasts. We have an open mind.
Terminology: Same-Gender Unions vs Same-Sex Marriages
IDEX Online Research uses the term "same-gender" rather than "same-sex" because it is technically more precise. The print media has popularized the term "same-sex" because, as a journalist friend of ours noted, "it is easier to write a headline with the shorter 'Same-Sex' than the longer descriptor of 'Same-Gender'."
Further, we use the term "union" rather than "marriage" when referring to same-gender weddings since the term "marriage" has traditionally been used to describe a union between heterosexuals, while the term "union" has a much broader connotation.