Polished Diamond Prices Rise in July
August 04, 15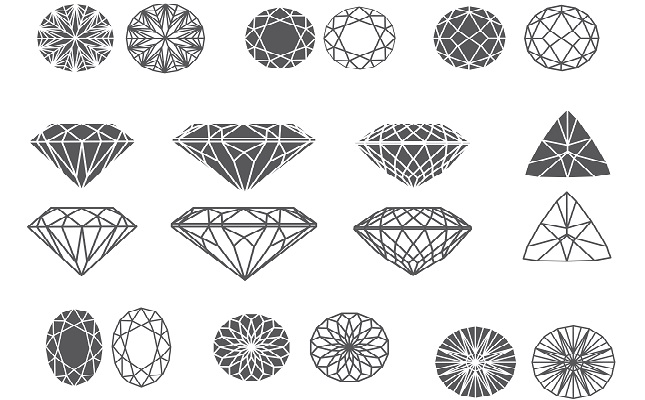 The IDEX Index for global polished diamond prices showed an increase in July, but that single index figure does not tell the whole story. Prices were mixed, and trading was choppy. Here's the underlying detail:
· The IDEX Index of Global Polished Diamond Prices averaged 132.2 during July, up from June's average of 130.1. The good news: prices were generally fairly solid. The better news: this is the second consecutive month that diamond prices have edged higher.
· On a daily basis, prices drifted slightly lower later in the month. Polished diamond prices reached a daily high of 133.3 on the IDEX Index scale on the first day of July, but drifted lower to the mid-132 range mid-month, and fell to the 131 range by the end of the month.
· There was a wide variation in price trends by size of stone. Diamonds in the 0.5-carat range dropped significantly in price. Further, 4-carat stones also dropped in price. Stones ranging in size from 1 carat to 3 carats posted varying gains on a month-to-month basis.
Polished Diamond Prices: Ups and Downs
Price volatility began in the third quarter of 2014, and has continued unabated in 2015. If anything, the volatility has accelerated during the first seven months of 2015.
The graph below illustrates short-term trends – and recent volatility – for polished diamond prices.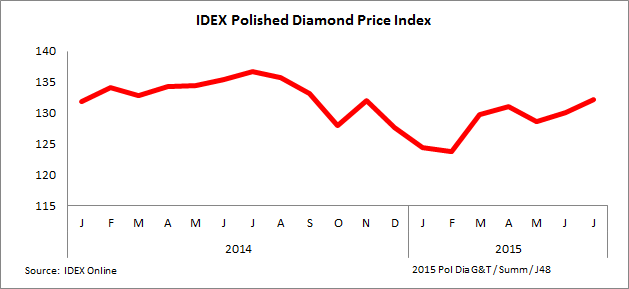 A graph of polished diamond prices for the past five years puts the recent price volatility in perspective, as shown below...
Click here to see the full IDEX Online Research article.