WJA Honors Leaders at Annual Awards for Excellence Gala
August 05, 15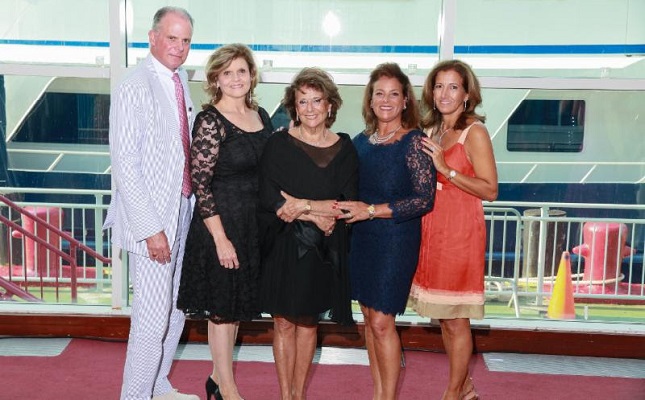 (IDEX Online News) – The Women's Jewelry Association (WJA) bestowed its Hall of Fame Lifetime Achievement Award to Pam Mortensen, SVP and general merchandise manager, jewelry, watches and fashion accessories at JCPenney at its recent Awards for Excellence Gala.
The Ben Kaiser Lifetime Achievement Award, awarded to a deserving man, was given to C. Clayton Bromberg, president, Underwood Jewelers, Jacksonville, Florida, while the Corporate Award was given to Gumuchian, and accepted by owner Anita Gumuchian and her two daughters and partners, Myriam and Patricia Gumuchian.
The WJA also presented its Awards for Excellence. They were given to: Monica Stephenson of iDazzle for Editorial Media; Pamela Froman of Pamela Froman Fine Jewelry for Design; Deborah Nicodemus of Moda Operandi for Non-Traditional Retail; Veronica Guarino of Louis Anthony Jewelers for Retail – Fewer Than 15 Doors; Laurie Watt of Mayer & Watt for Manufacturer/Dealer/Supplier; Eve Rogers of Graff for Retail – Greater Than 15 Doors; Rebecca Moskal of Communique for Marketing & Communications; Amy Levine of Gurhan for Sales and Merchandising; Becka Johnson Kibby of the Edge Retail Academy for Special Services and Jeanine Drtina of Cartier for Watches.
The event raised $60,000 for the WJA Foundation's Scholarship and Grant program. To highlight the importance of the grants, the group also invited scholarship winners and winners of the WJA-Carelle Grant in honor of Brooke Tivol McGrath, to attend the event.
"Through your generous support, the WJA community is able to make a difference for women in every stage of their careers," said WJA executive director Bernadette Mack.
"The funds we distribute annually will help a member in Texas buy a new piece of jewelry making equipment, help a woman launch a new jewelry line in Chicago, aid a student at the University of Georgia, and help a military veteran pay for courses. These are just a few of the remarkable ways you are supporting this vibrant and future thinking community."