IDEX Online Research: Polished Diamond Prices Slip in September
October 06, 15
The broad market IDEX Index for global polished diamond prices showed a modest decline in September, but this single index does not tell the whole story. Prices were mixed by size. Here's the underlying detail:
· The IDEX Index of Global Polished Diamond Prices averaged 130.4 during September, down from 132.2, the average for both July and August. The good news: prices held steady during the final two weeks of September.
· On a daily basis, prices drifted slightly lower early in the month. Polished diamond prices reached a daily high of 132.9 on the IDEX Index on the fourth day of September, but drifted lower to the 128-129 range mid-month, and held steady in subsequent days.
· There was a wide variation in price trends by size of stone. Diamonds in the 0.5-carat range dropped significantly in price. Further, 4-carat stones also dropped in price. Stones ranging in size from 1carat to 3 carats posted varying gains on a month-to-month basis.
Polished Diamond Prices Continue Their Roller Coaster Ride
Price volatility began in the third quarter of 2014, and it has continued unabated in 2015. If anything, the volatility has accelerated during the first nine months of 2015.
The graph below illustrates short-term trends – and recent volatility – for polished diamond prices.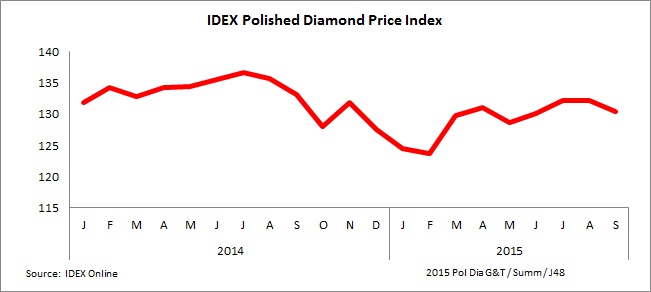 A graph of polished diamond prices for the past five years puts the recent price volatility in perspective, as shown below: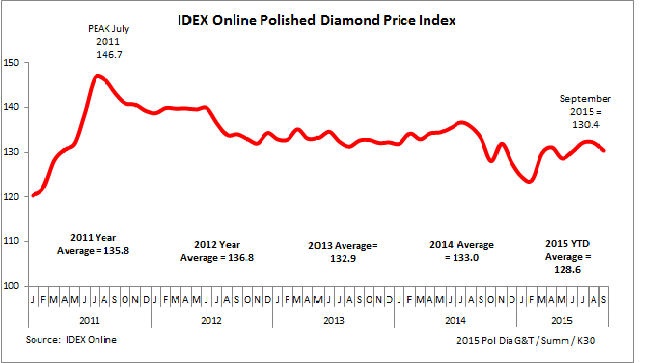 On a month-to-month basis, September global polished diamond prices were down 1.4 percent compared to August, as the graph below illustrates. Further, the graph illustrates the volatility of recent polished diamond prices.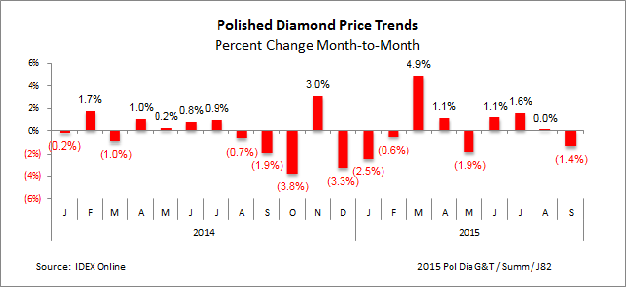 On a year-to-year basis, global polished diamond prices were lower in September, when compared to September 2014 as the graph below illustrates. While this is the thirteenth month that polished diamond prices have been flat or down versus the same month in the prior year, the amount of decline is decreasing, as the graph below illustrates.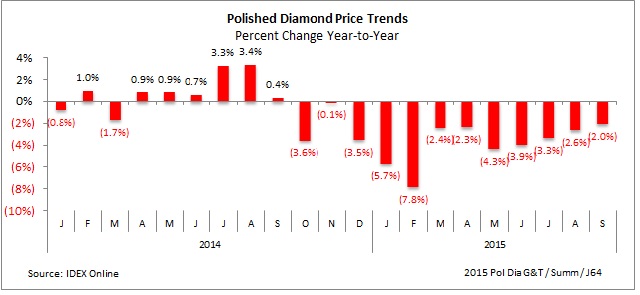 Daily Diamond Prices Drifted Lower
In September, overall polished prices started the month higher, but ended lower, with a significant drop in the second week of the month. By the end of the month, they were down from an index high of nearly 133 early in September to a low near 129. This is a decline of nearly 3 percent during the month.
After less-than-robust demand at some recent trade shows, coupled with industry banking and credit turmoil, it is no surprise that diamond prices have trended slightly down.
The graph below summarizes polished diamond prices on a daily basis during September 2015.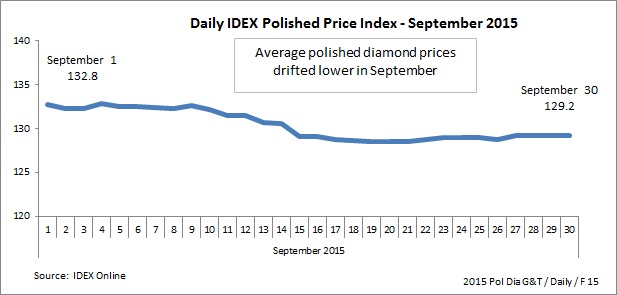 Diamond Prices by Size Bounced Around in September
There was no pattern to diamond prices by size. Similar to trends in this summer, small stones – about 0.5 carat in size – showed a notable price decline since there appears to be an ample supply of these diamonds. Among "big" diamonds, 4-carat gemstone prices were off. In between, prices were flattish to down, but mixed in terms of percentage gains.
On a month-to-month basis – comparing prices in September 2015 to August 2015 – prices for most polished diamonds were mixed, as the graph below illustrates.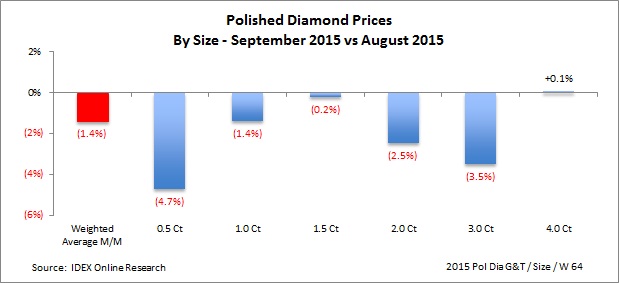 On a year-to-year basis – comparing prices during September 2015 to September 2014 – polished diamond prices were lower for all major sizes of gemstones except 4-carat stones. The graph below illustrates the year-to-year price trends for polished diamonds by size.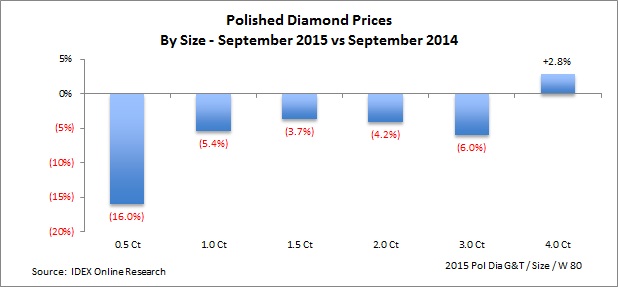 Over the longer term, the most price volatility has occurred among stones 3-carat and larger, though 0.5-carat stone prices have trended lower (dark blue line at bottom of the graph) as illustrated below:
Outlook: Diamond Prices Unlikely To Rise Near Term
In the past, we've cited many reasons that diamond prices were not expected to rise significantly – or decline notably – this year. We noted that the global economy is sluggish, and shoppers are showing restraint.
Now, we have new factors that are likely to have a negative impact on diamond prices. All of these factors are industry-specific: diamond banks are reducing credit, significant changes have occurred in diamond Sight terms, diamond grading irregularities have surfaced and lab-grown diamonds seem to be slipping into the market. Those internal challenges are likely to have a negative impact on polished diamond prices.
As a result, we continue with our diamond price forecast of a "negative bias" from our earlier prediction of "flattish" prices in 2015.