Sotheby's Sells 'Unique Pink' for $31.5 Million
May 18, 16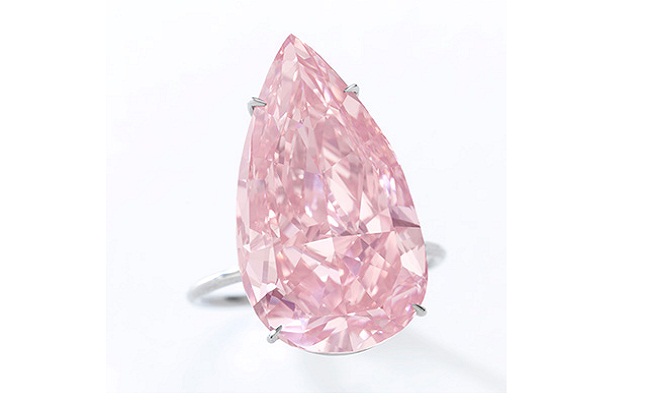 (IDEX Online News) – Sotheby's has announced that a unique 15.38-carat fancy Vivid Pink color diamond with exceptional clarity and structure – the Unique Pink – was sold for $31.56 million.
The rare diamond was the highlight of Sotheby's recent Magnificent Jewels Sale and its selling price made it the most expensive Fancy Vivid pink diamond to sell at auction. The previous auction high for a Fancy pink diamond was the $28.5 million that Joseph Lau paid in November for the 16.08-carat "Sweet Josephine."
The original seller of the diamond, Cora International, which cut and polished the stone, also sold the "Blue Moon of Josephine," whose $48.5 million auction price is to-date the world record for a diamond of any color.
"I am truly delighted that Cora International has brought a third record-breaking diamond to auction," said Cora International chairman Ehud Laniado.
According to the Fancy Color Research Foundation, pink diamond values have increased by more than 350 percent in the last 11 years. Laniado added that investors are beginning to see diamonds as a way to grow their investment portfolios – a trend that he hoped would continue. "…we are now seeing a growing global set of wealthy individuals from Shanghai to Dubai, who are growing in size and sophistication, who are increasingly recognizing the value of investing in unique items of luxury, including diamonds."
Other lots in the sale included a 7.32-carat pear-shaped Fancy Vivid blue diamond ring, which sold for CHF16.71 million ($16.46 million), which had a pre-sale reserve price of CHF14.4 million to CHF24 million ($14.65 million to $24.42 million).
An Alexandre Reza marquise-shaped fancy intense blue diamond brooch weighing 6.64 carats with two pear-shaped fancy intense blue diamonds weighing 2.01 and 1.01 carats, almost matched its CHF13.4 million pre-sale estimate and sold for CHF13.35 million ($13.6 million).
An 18.51-carat pear brilliant-cut fancy pink diamond pendant exceeded its pre-sale estimate of CHF7.68 million and sold for CHF9.55 million ($9.7 million).
The auction's total value reached CHF171 million ($174 million).