US Jewelry Sales Show Consistent Growth in March/First Quarter
May 19, 16
(IDEX Online News) – Total sales of fine jewelry and watches in the US market rose by a solid 4.2 percent in March when compared to March 2015, according to preliminary data from the US Department of Commerce. That improvement was in line with the solid gains posted earlier this year.
In an unusual move, the government's jewelry sales numbers were raised for both January and February, resulting in larger gains than previously reported.
For the first calendar quarter of 2016, total US fine jewelry sales rose by an estimated 4.9 percent to $16.8 billion, up from the prior year's $16 billion.
However, preliminary March sales gains for specialty jewelers were modest, a gain of 3 percent. There were, however, major revisions downward in sales trends for specialty jewelers' January and February sales. Specialty jewelers' January sales had been previously reported as having increased 1.5 percent, however, revised figures show that it actually declined by 4.2 percent. February's sales had been reported as having increased 7.7 percent, although, revised figures showed a more modest 4.1-percent increase.
For the first quarter, specialty jewelers' sales rose modestly, a gain of only 1.4 percent for the first quarter of 2016 versus the first quarter of 2015. Clearly, specialty jewelers, who generate just over 40 percent of total US jewelry sales are struggling.
Total Jewelry Sales Post Solid Gain in March
Total sales of fine jewelry and fine watches in the US market in March were an estimated $5.4 billion, according to the latest preliminary data from the Department of Commerce. March sales were slightly above the typical level of monthly jewelry sales –$4 billion to 5 billion – in the US market.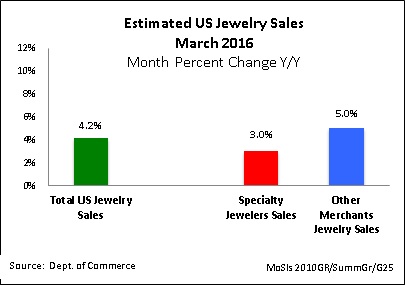 Click here to see the full IDEX Online Research article.