US KP Authority, Govt Bodies Taking Steps to Enhance Rough Diamond Trade
September 08, 16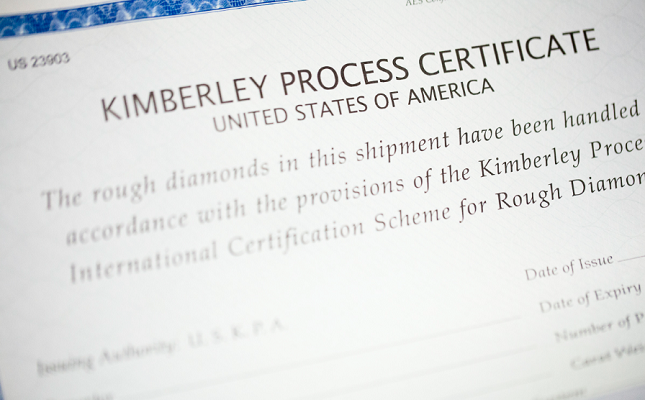 (IDEX Online) – The U.S. State Department, U.S. Census Bureau and the United States Kimberley Process Authority (USKPA) have formalized a Public-Private Partnership as a measure of enhancing the process by which the US industry can acquire government validated Kimberley Process Certificates (KPCs) for the export of rough diamonds from the US.
This system has been in place in the U.S. since the inception of the Kimberley Process Certification Scheme (KPCS) in the U.S. in 2003.
The USKPA is a trade association formed in 2003 for the purpose of administering the issuance of KPCs and is managed by Dr. Martin Hochbaum, formerly of the Diamond Dealers Club of New York City. The Board of Directors of the USKPA consists of Dr. Hochbaum, Cecilia Gardner, President and CEO of JVC (who also serves as the USKPA's general counsel) and Mark Gershberg, President of Gemological Science International, located in New York and Mumbai.
Under the system in the United States, the USKPA licenses individual companies and common carriers to acquire and use KPCs. Each company who is licensed to export rough diamonds must file the electronic export information to the U.S. Customs and Border Protection's Automated Export System.
The licensee must sign a licensing agreement which obligates it to meet the requirements for reporting usage of each KPC to U.S. government agencies, confirming receipt of parcels to the customers abroad as well as maintaining the security of the KPCs while in their possession. Each licensee is subject to performance reviews by both the USKPA and the U.S. government. The licensee must also warrant each shipment as fully compliant with the Clean Diamond Trade Act, the United States legislation which implements the (KPCS).
Deputy Assistant Secretary Andrew Keller of the U.S. State Department commented: "Since the formation of the U.S. Kimberley Process Authority in 2003, the U.S. Department of State and the U.S. Kimberley Process Authority have worked closely to implement the Kimberley Process Certification Scheme and enhance control of the rough diamond trade in the United States. With the formalization of a Public-Private Partnership between the U.S. Department of State, U.S. Census Bureau, and the U.S. Kimberley Process Authority and the signing of a new MOU, we look forward to continued collaboration and progress in strengthening our domestic system."
Assistant Director for Economic Programs of the U.S. Census Bureau, Nick Orsini stated: "The U.S. Census Bureau looks forward to strengthening the partnerships necessary to ensure the continued timeliness, quality, and transparency of export statistics on rough diamonds."
Said Dr. Hochbaum: "The working arrangement that was put into place in 2003 allows dealers here in the United States to acquire efficiently and use KPCs for exports of rough diamonds in compliance with the standards of the KPCS. Signing the memorandum of understanding has formalized this partnership so that the parties are well informed of their roles and commitments. We appreciate the support and cooperation provided by the U.S. State Department and the Census Bureau that has always promoted compliant rough diamond exports from the United States."