U.S. Jewelry Sales Up in August, In Line With Forecasts
October 18, 16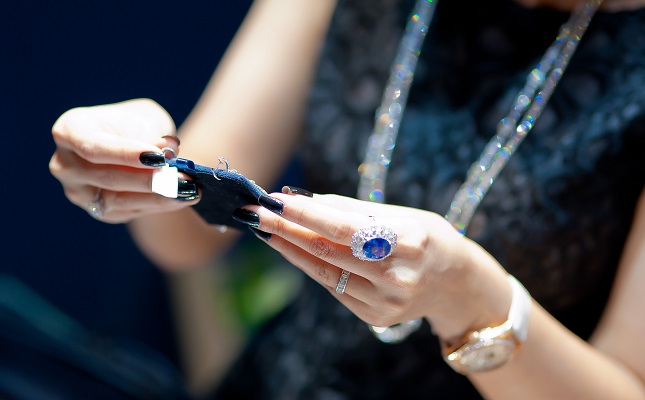 (IDEX Online) – Total sales of fine jewelry and fine watches in the U.S. market rose by an estimated 2.7 percent to $5.8 billion in August 2016, according to preliminary data from the U.S. Commerce Department, as the graph below illustrates.
This gain was in line with forecasts by IDEX Online Research; we have been predicting that jewelry sales would be up by three percent or so in the final half of the year.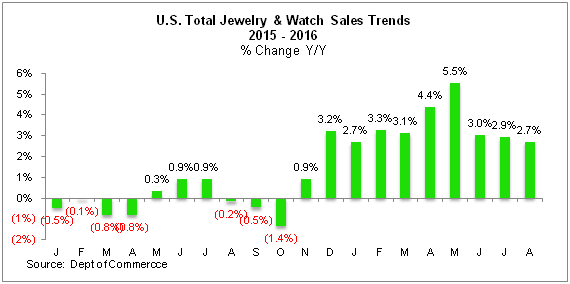 Specialty Jewelers' Sales Positive
After two months of very weak sales, specialty jewelers in the American market posted estimated sales of $2.2 billion, a gain of 2.4 percent, in August, while other multi-line merchants who sell jewelry generated sales of about $3.6 billion, a gain of 2.9 percent, as the graph below illustrates.
Jewelry & Watch Sales Gains Parallel
By category, fine jewelry sales were up about 2.7 percent in August, and fine watch sales rose by 2.4 percent.
Consumer Demand Stable
Total retail sales of all goods, except autos, posted a 2.5 percent sales gain in August.
Outlook Optimistic for Holiday Season Jewelry Sales
All of these trends bode well for the all-important upcoming holiday selling season of November and December.
To read the full IDEX Online Research article, click here