Antwerp Diamond Industry 'Demands Solution For Banking Issue'
April 03, 17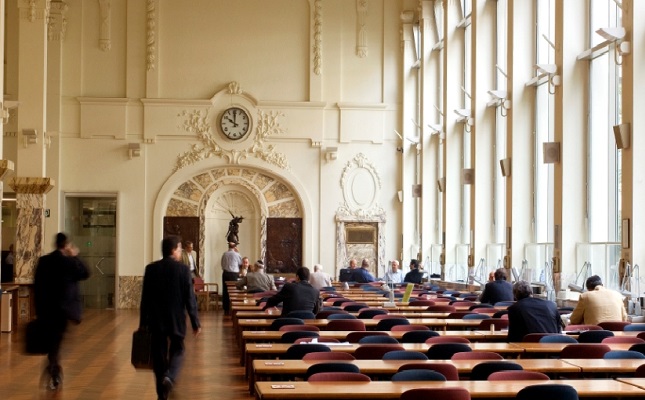 (IDEX Online) – In reaction to media reports regarding access to bank accounts, the Antwerp World Diamond Centre (AWDC) said it is "indisputable that Belgian banks discriminate against the entire Antwerp diamond industry".
"Based on testimonials, companies' correspondence with banks and information banks themselves have published, the AWDC can prove that banks are systematically refusing customers with any connection to the diamond industry, both for personal and professional banking affairs, before they even submit a detailed request."
Legislation And Industry Initiatives
"Banks often refer to the so-called 'risk factor' involved to justify their refusal. Claiming the industry is not sufficiently aware of this problem makes no sense. First of all, the diamond trade in our country is controlled strictly by a series of legal obligations. By law, only officially registered diamond companies are allowed to engage in trade, and very stringent anti-money laundering (AML) legislation is applied. Moreover, all international financial transactions are closely monitored, and within the Diamond Office, all exports and imports are 100 percent verified.
"The Antwerp diamond industry has made significant efforts in recent years to set up additional initiatives on top of this legal framework. Since 2013, it has organized no less than 23 AML and compliance seminars, attended by 544 companies, and the number of reports issued at the CFI (Belgian Financial Intelligence Processing Unit) went from one in 2013 to 35 last year, thanks to the creation of a dedicated SPOC (Single Point of Clearance ) by the AWDC. A dedicated AML and compliance helpdesk was set up in 2013, and handled over 631 cases last year. AWDC also partnered with the Compliance Catalyst database from Bureau Van Dijk. This database contains the information of 250 million clients worldwide, and is made available to Antwerp diamond companies free of charge, enabling them to perform the legally obliged identity checks on their clients efficiently.
Industry Initiates Dialogue
"In addition, the AWDC took the initiative to bring all stakeholders involved around the table in order to solve this issue. Between the end of 2014 and today, no less than 10 meetings were held with Febelfin, the organization representing Belgian financial institutions. During the most recent meeting, AWDC proposed to work with a Sustainable Bank Account Access Scheme (SBAAS), developed specifically to tackle this issue. Companies that participate in the scheme, which can be audited by an official institute, will be screened extensively in terms of compliance, thus significantly lowering the compliance cost for banks.
"Government administration, in collaboration with the industry and Febelfin developed an extensive risk analysis for the banks, providing insight in the risks perceived by the banks and, more importantly, identifying how they can be tackled. Furthermore, the AWDC has regularly invited financial organizations and relevant companies to explain the dynamics of our industry in detail, and continues to explore other instruments such as blockchain.
Carat Tax Creates Greater Transparency
"The long-awaited new tax regime, known as the Carat Tax, creates a higher level of transparency in terms of capital account and bookkeeping. This heightened transparency significantly improves banks' ability to perform compliance controls. Ironically, the systematic refusal to open bank accounts for those that are linked to the diamond industry is preventing companies interested in (re-) establishing their business in Antwerp from doing so. Without a bank account, you cannot trade nor establish a registered diamond company.
"AWDC regrets that despite all the efforts and the attempts to engage in a constructive dialogue, the Belgian banks are still systematically refusing banking services to people in our trade, before they even have the chance to submit their request dossiers."