CIBJO's Cavalieri Holds Talks With Thai Minister Ahead of Annual Congress
June 19, 17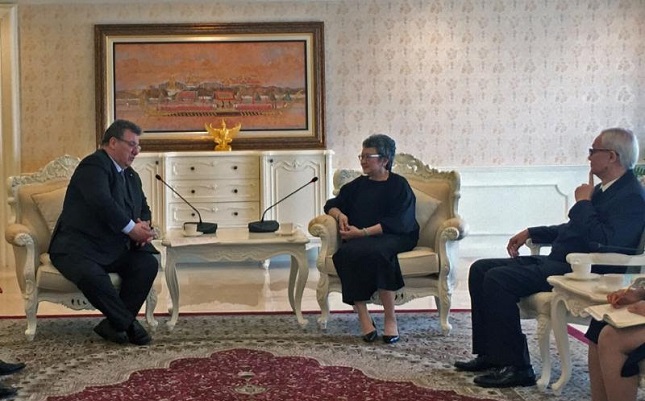 (IDEX Online) – CIBJO President Gaetano Cavalieri met in Bangkok with the Thai Minister of Commerce, Apiradi Tantraporn, to discuss preparations for the 2017 CIBJO Congress which will take place in the city in November.
Cavalieri and Tantraporn also discussed ways in which CIBJO and the congress can assist in enhancing the role of Thailand in the international jewelry and gemstone business.
The 2017 CIBJO Congress is being hosted by the Department of International Trade Promotion (DITP) and the Gem and Jewelry Institute of Thailand (GIT), both of which fall under the jurisdiction of the Thai Ministry of Commerce. The meeting with the minister was also attended by Rachane Potjanasuntorn, Chairman of GIT, and Somdet Susomboon, Deputy Director General of DITP, as well as senior members of the Thai team that is helping organize the event.
During the meeting, Cavalieri expressed his wish that the congress assist Thailand in reclaiming its position as a leading trade and manufacturing centre in the international gemstone and jewelry trade. Not only should the country serve as the epicenter of the business in the ASEAN block, which by itself is home to an increasingly affluent population of more than 600 million, but it should emphasize its specific Thai identity, skill and expertise, rather than operating predominantly as production service-provider for companies from other countries, he stated.
The Minister of Commerce thanked CIBJO for its support, and stressed that her ministry and the Thai government are instituting a program to enhance both the strategic position and value of the Thai gemstone and jewelry sector. The holding of the 2017 CIBJO Congress in Bangkok is part of that effort, Tantraporn commented.
The 2017 CIBJO Congress will take place in Bangkok from November 5-7, with pre-congress meetings beginning on November 2. The World Ruby Forum, which is being organized by GIT in conjunction with the congress, will take place on November 4. The main venue for the CIBJO Congress and the official congress hotel will be the Shangri-La Bangkok.
As the official venue for the meeting of the CIBJO Assembly of Delegates, the CIBJO Congress will gather in Bangkok the members of national jewelry and gemstone associations from more than 40 countries and representatives of many of the industry's most important commercial bodies. The congress also serves as a forum for CIBJO's professional commissions, and is the venue at which its Diamond, Coloured Stones, Pearl, Coral, Precious Metals and Gemmological Blue Books are discussed and updated. The CIBJO Congress is also where the program of the World Jewellery Confederation Education Foundation (WJCEF), relating to responsible and sustainable activities in the industry, and CIBJO's ongoing cooperation with the United Nations and its development program is reported upon.
CIBJO President Gaetano Cavalieri (left) outlining preparations for the 2017 CIBJO Congress for Apiradi Tantraporn (centre), Minister of Commerce of Thailand, as Rachane Potjanasuntorn, Chairman of GIT, looks on.