Rio Tinto Unveils Its Largest Red Diamond At Australian Debut
August 29, 17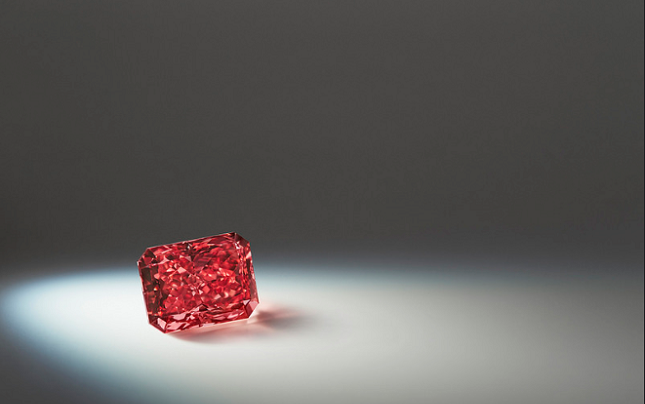 (IDEX Online) – Rio Tinto unveiled the largest fancy red diamond in the history of its Argyle Pink Diamonds Tender during its Australian preview.
Rio Tinto CEO J-S Jacques showcased The Argyle Everglow at the first Australian viewing of the stones at a special preview in Perth. He said, "The market fundamentals for pink diamonds remain robust. The combination of healthy demand and extremely limited supply continues to support significant value appreciation for pink diamonds."
The Argyle Pink Diamonds Tender is the annual showcase of the rarest diamonds from Rio Tinto's Argyle mine.
The 2017 Argyle Pink Diamonds Tender is named 'Custodians of Rare Beauty' in honor of its rich provenance and honorable pedigree. The 58 diamonds weigh a total of 49.39 carats – including four fancy red diamonds, four purplish red diamonds, two violet diamonds, and one blue diamond.
The Argyle Everglow, a 2.11 carat polished radiant cut diamond, is the centerpiece of the tender, which also includes:
Argyle Isla. 1.14 carat radiant shaped fancy red diamond

Argyle Avaline, 2.42 carat cushion shaped fancy purple-pink diamond

Argyle Kalina, 1.50 carat oval shaped fancy deep pink diamond

Argyle Liberté, 0.91 carat radiant shaped fancy deep gray-violet diamond
The diamonds are being showcased in Perth, Hong Kong and New York with bids closing on October 11.