Love & Co. Adopts Sarine Profile Digital Diamond Report in China
September 11, 17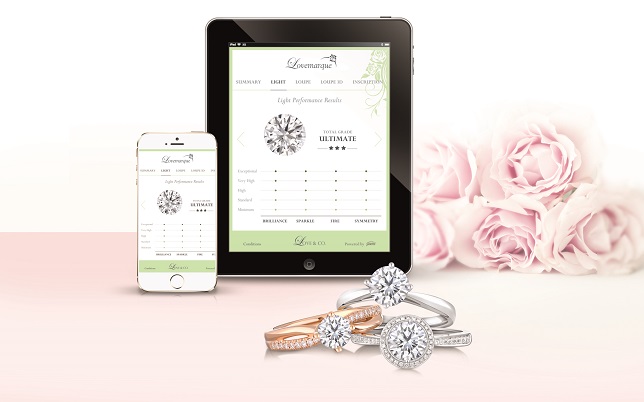 (IDEX Online) – Sarine Technologies Ltd said its Sarine Profile digital diamond report will be rolled out across China by Soo Kee Group Ltd under the Love & Co. brand for its Lovemarque diamond collection. Love & Co. is the bridal brand of Singapore Exchange Mainboard-listed Soo Kee Group Ltd.
The jeweler announced its partnership with Sarine and its initiative to be the first jeweler in China to introduce the first fully digital diamond report program. The digital reports provide a visual and experiential 'story' of the diamond, targeted directly at the younger generation of consumers in China, thereby enhancing their in-store purchase process while building their trust and confidence.
The Sarine Profile digital diamond report, available for Love & Co.'s Lovemarque diamond collection in China, uses Sarine's accurate diamond analysis and display technologies and is also the first program of its kind to be presented entirely in Chinese. With the language specially customized for the China market, this will ensure faster and more effective adoption of the program by Love & Co. stores across China, Sarine said. The brand aims to establish 550 points-of-sale in China and the Hong Kong Special Administrative Region by the end of its fifth year of operation.
On the expansion of the partnership, Daniel Lim, CEO of Soo Kee Group, said, "We are happy to extend our relationship with Sarine as we enter the Chinese market. Being the first jeweler in Asia to adopt the unique fully digital Sarine Profile diamond display paradigm, we believe this partnership is significant as it reflects our shared vision for a 21st century consumer experience in the diamond jewelry market – one which we hope to bring to our Love & Co.'s customers in China."
David Block, Chief Executive Officer of Sarine, remarked, "Across China, a new generation of young consumers is seeking a digital, technology-based, accurate and personalized diamond purchase experience. The partnership with Love & Co. exemplifies the forward-thinking approach of these key players in the Chinese jewelry retail industry. Sarine is proud to be working with Love & Co. to provide China's first entirely digital diamond story experience, and moreover we are excited that it will be entirely in Chinese. This is a significant step in the evolution of the in-store experience for jewelry consumers in China, creating an in-store experience that is unparalleled in levels of personalization and accessibility."